Product Description
KangerTech CLOCC Coils: 5 Pack
5 X Kanger CLOCC Coils (0.5 Ohm):
These KangerTech CLOCC replacement coils are designed for the Kanger range including the CL Series of tanks, and feature a connection point rather than a screw thread. These coils are mainly designed for tanks with a top airflow, rather than bottom. Ideal for the Kanger Subox Mini CL.
Watch out for cheap imitations. Ensure your product is authentic Kangertech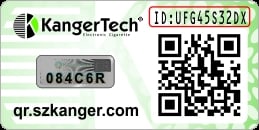 Kanger CLOCC Pack Content:
5 Pack KangerTech CLOCC Coils

Coil Rating:
0.5 ohm - 35 - 60 watt - (direct lung inhale)
CLOCC Coils Instructions: Replacing Coils
Hold the tank unscrew the top
Remove the old coil
Prime the new coil with 2-3 drops of liquid
Replace the new Kanger coil into the top section
Finger Tighten plus a slight additional turn so that the Clocc coil is FIRMLY in place
Replace the tank top and coil taking care not to over tighten
To avoid damage to the wick in the atomiser head always make sure you prime your coils by adding few drops of e liquid to the CLOCC coils and wait a minute or two prior to vaping.
Leak Free Vaping
Your Kangertech device is manufactured with precision so will not leak providing you use the product and parts correctly. Where any leaks have occurred, we have solved almost all by taking the following steps.
When using the tank for the first time ensure all the parts of your tank are tightened properly, this involves finger tightening then an extra 1/16th turn
Make sure the coil in the tank is finger tightening then an extra 1/16th turn
When cleaning or replacing the CLOCC coil carry out the above procedures.
Ensure you have the correct temperature/power settings for your particular device. Coils for example have ratings and should be kept within maximum and minimum recommended settings. Too high and your device will pop and crackle which may cause spots of e liquid to escape via the air-intake.
Where product has been returned, we have found that TIGHTENING the PIECES properly resolves any leak issue.
See our full range of Kangertech Subox Mini accessories
Product Videos
Custom Field
Kangertech
Subox mini accessories
Product Reviews