Posted by Pure E Liquids on 8th Dec 2022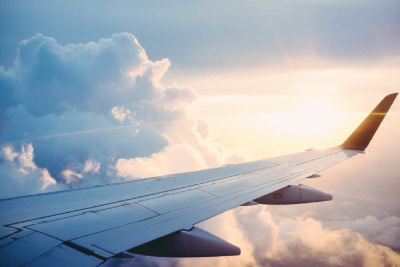 Whether you're going with family, friends or your partner, you need to get the essentials packed and ready for your flight! That doesn't just include suntan lotion and sandals for the beach but your trusty e-cigarette to vape when you require some nicotine.

But a few questions arise before boarding the plane, such as whether your vape is even allowed on board the flight. And what of your e-liquids? You can't have one without the other, so let's run through the checklist before you pick up those much-needed air miles. As rules and regulations can change at any time, it's important to consult with your airport and airline before you travel, even after reading our handy guide. The popularity of e-cigarettes has taken off in recent years, leaving more and more vapers uncertain about the rules regarding travelling by air with their e-cig.
Can I Take An Electronic Cigarette On A Plane?
As you can see from the list below of major airlines flying in and out of the UK, under no circumstances are e-cigarettes allowed to be activated on a plane. This is for the safety and respect of others on board. In addition, no more than a maximum of 20 batteries are allowed per person for hand luggage. You can not hold these below the cabin in your check-in luggage. Nevertheless, you can in most cases carry your preferred vape on board, as well as batteries and any e-liquids up to 100ml.

Although there have been social reports of passengers vaping during flights, as a rule using e-cigarettes onboard is not permitted by any airline and we would strongly advise that you do not do this. For full details, it's best to check with the airline directly through their communication channels if you have any concerns before making your way to the airport.
Here is the list of some of the more popular airlines below:
Ryanair - The budget airline allows you to carry electronic cigarettes on board but you are strictly forbidden to use electronic cigarettes or any other type of cigarette on board the aircraft.

EasyJet - You can take any electronic cigarette and a maximum of two spare batteries in carry-on baggage and hold it personally. They must not be used on board.

British Airways - BA does not allow you to use any form of e-cigarette on board, but you can have them in your hand luggage or on your person. If your hand baggage is checked in or removed at the gate and placed in the hold, you must remove the e-cigarettes and carry them with you in the cabin.

Virgin Atlantic - They state that you can carry them on board but that you are not permitted to use them.
Can You Take Disposable Vapes to and From the UK?
Disposable vapes are taking the industry by storm and are now possibly the most popular device available due to their convenience. But can you take disposable vapes on a plane departing from and arriving in the UK? The simple answer is yes. With a battery pre installed and typically 2ml of e-liquid, the same rules apply to disposables as they do to standard devices that contain a separate vape tank or pod.

You can take any mixture of liquids on board (but not in your hold luggage) up to 100ml and no more than 20 batteries. Therefore, 20 disposable vapes are the usual limit on board most flights.

However, it's always worth checking as airlines can vary with their rules at their discrepancy. For instance, Easy Jet only allows e-cigarettes and two spare batteries, so it's worth checking before departing. Just remember whatever you discover about your limitations to never vape your disposable vapes during the flight of course!
Going Through Security With Your E-Cig
E-cigarettes are not permitted in your checked luggage, which goes through customs and on the storage of the plane, for fire safety reasons. Because of the combustible elements which power your vape, it's not safe to keep e-cigarettes in unattended luggage at high altitudes. For that reason, it can only be kept in your luggage or pocket. On occasion, the e-liquid could leak into your pocket during the flight so best to keep it in your handheld luggage if possible.

You will also have to place any e-liquid inside a clear plastic bag like any other liquid. E-liquid is available in convenient 10ml bottles so this should usually not be an issue, but still, something that should be noted. To ensure you don't run out of e-liquid and have to change as frequently, 50ml shortfill bottles are a good option to give you enough supply during your trip.

E-Cigarettes are banned inside all UK airports. Initially, they were allowed at Heathrow when the major UK airport announced in November 2013 a dedicated vaping area located in Terminal 4. But this is no longer the case. On this basis, we recommend you use your e-cig outside of the airport but no further.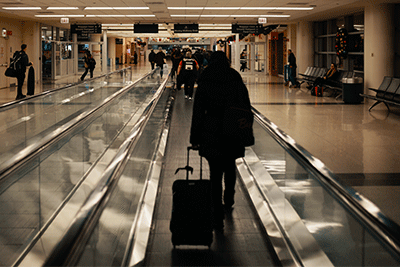 Failing To Prepare Is Preparing To Fail
To withstand travel, we advise using a good quality and durable e-cigarette. In terms of which device you take, whether it's a short or long trip for a week or month, you can't go wrong with a pod vape system. These days many hold enough battery life to last all day with little charge needed, with some even available with an external battery to swap with ease. Compact and lightweight, they're easy to carry and yet still give enough of a throat hit and vapour if needed. The choices are endless. You can even invest in removable pods containing nic salts for even less hassle but plenty of nicotine if required, or a few disposables which you can discard safely once abroad.

It's important to prepare thoroughly before travel to avoid any issues when flying with your e-cigarette and accompanying supplies. Checking with your airline only takes 'a few' minutes once you have booked to ensure you adhere to their rules. Even though the general rule permits e-cigarettes on board most flights, airlines have a habit of making last-minute changes so preparation is key.
Summer is over in a flash, so where possible you want to enjoy it not just in the UK but overseas with a holiday, if permitted. Whether you're going with family, friends or your partner, you need to get the essentials packed ready for the trip!