Can I Fly With My E-Cig?
Posted by Pure E Liquids on 14th May 2019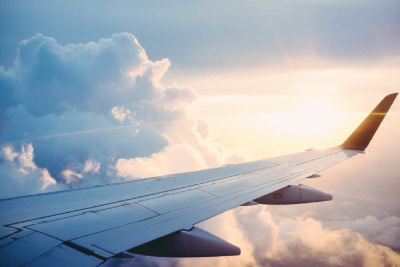 Can I fly with my ECig? - a question we're frequently asked about in the summer months, and quite rightly.
In 1990, British Airways banned smoking on domestic flights on a trial basis, with Virgin and United Airlines quickly following suit. We became used to the dreaded 'last cigarette before boarding' and the anticipation of touching down and smoking our first cigarette on foreign soil.
However, the popularity of e cigarettes has taken off in recent years leaving more and more vapers uncertain on the rules regarding travelling by air with their e-cig.
As rules and regulations can change at any time, it's important to consult with your airport and airline before you travel, even after reading our handy guide.
Can You Fly With An E-cig?
E-Cigarettes are banned in all UK airports apart from Heathrow. In November 2013, Heathrow created a dedicated vaping area located in Terminal 4. You are allowed to 'vape' within the premises but not past the gate.On this basis, we recommend you use your e-cig outside of the airport but no further. You can then ask the current policy at the check in desk.
Going Through Security With Your E-Cig
Quantities of e-liquid must be no larger than 100ml. You will also have to place any e-liquid inside a clear plastic bag like any other liquids. E-liquid is available in convenient 10ml bottles so this should usually be not be an issue, but still something that should be noted. To ensure you don't run out of e-liquid and have to change what your tastebuds are already used to, ensure to pick 50ml pure e-liquids that will have you covered. You could even purchase one of our 60ml Short Fill bottles to use to make transporting your e-liquids easier.
Carrying & Using E-Cigarettes on Planes
Please check with your airline to make sure there are no issues with carrying your e-cigarettes in flight as some do not allow you to pack lithium iron batteries in the hand luggage and therefore these may need to be packed in your suitcase prior to travel.
To withstand travel, we advise using a good quality and durable ecigarette with, of course, the best e liquid available today.
Although there have been social reports of passengers vaping during flights, as a rule using e cigarettes onboard is not permitted by any airline and we would strongly advise that you do not do this.
For reference, here are some of the current policies from the UK and Ireland's largest airlines;
Ryanair allows you to carry electronic cigarettes on board but you are strictly forbidden to use electronic cigarettes or any other type of cigarette on board the aircraft.
EasyJet lets you take any electronic cigarette and a maximum of two spare batteries in carry-on baggage and on ones person. They must not be used on board.
British Airways does not allow you to use any form of e-cigarette on board, but you can have them in your hand luggage or on your person. If your hand baggage is checked in or removed at the gate and placed in the hold, you must remove the e-cigarettes and carry them with you in the cabin.
Aer Lingus does not allow the use of e-cigarettes on the plane. They must be carried in your hand luggage or on your person.
Virgin Atlantic states that you can carry them on board but that you are not permitted to use them.
For reference, you can check the information on companies' websites such as Airways on their liquids and restrictions on flights.
As we've seen, the current policies surrounding e cigarettes and air travel are very uncertain, although we hope we've cleared some of the confusion surrounding use!