Posted by Pure E-Liquids on 23rd Aug 2019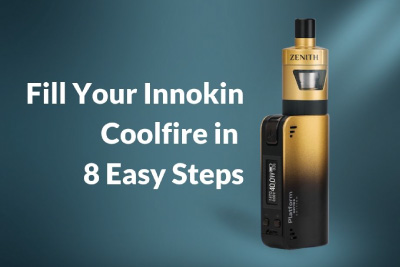 If you've recently got your paws on the Innokin Cool Fire Mini and are a first time user of this device, then you may we wondering how to refill your Sub tank with your favourite e-liquid. Scratching your head aimlessly getting nowhere in your quest to vape? While it may feel like unfamiliar territory, refilling your tank is a fairly straightforward exercise. Let's take a look at what's what.
How Do You Refill the Innokin Cool Fire?
While there are some difference between pod kit and a vape mod, refilling isn't that much more complex. Just follow these simple instructions on how to refill your Zenith D22 Tank, and in a flash, you'll be vaping and making some sweet vapour clouds.
Remove the airflow section from the base of the tank.
Fuss-free, simply pull the coil from the base of the tank and unscrew the rest of the base from the chamber.
This more than adequately sized mini-tank means there's plenty of room for your e juice dripper tool to fill the tank and keep free from spillages.
It's a good idea to prime the coil before you vape. Add a drop of e-juice onto each juice inlet holes found on the side of the coil as this will help speed up the process of your wicking materials absorbing the e-juice.
Put the coil back into the base and screw the top of the tank and airflow piece back onto the rest of the chamber.
It's always a good idea to leave your tank and coil to sit for 5 minutes with any e-juice refill for the wicks to absorb as much of the new e-juice as possible.
Attach your tank to your battery and vape away.
Top tip: If you're using new coils and wicks, it's a good idea to start at a low setting. If you're using the 0.5-ohm coil, start as 220 watts to warm your coils up which will help prolong the life of the coils and stop any burnout from vaping at high wattages. There you have it. Easy.
The Best E-Juice For Sub-Ohm Vaping
As you may know, not all e-juices are the same. In the majority of cases, you'll find that liquids called PG (propylene glycol) and VG (Vegetable Glycerin) feature predominantly in the ingredients and labelling of your e-liquid bottles. If you're keen on creating some seriously big vapour clouds with your new Innokin Cool Fire IV, then choosing the right e-liquid is paramount to your success. It's always good to know that PG tends to be used for flavour and VG is used to produce thick vapour clouds.
For some of the best cloud chasing to be found, choosing an e juice such as VSAVI's Gourmet Range, 100% VG Premium E-Liquid will be just what you're looking for. Worried about a lack of flavour? Offering a rich-tasting, flavourful vape, VSAVI's Gourmet Range use some of the best ingredients around to provide you with a satisfying vape with plenty of vapour. Choose from 9 tasty flavours including Coconut Delight, Raspberry, Apricot, Watermelon, Cappucino, Tutti Frutti, Toffee Caramel Choco and Coffee Cream Choco. Hmm, mmm.