Posted by Pure E-Liquids on 23rd Apr 2020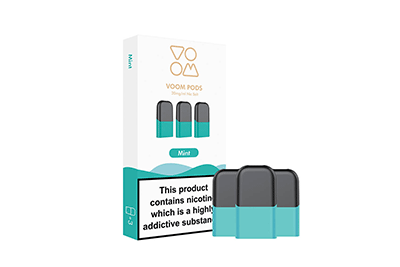 If you are a menthol cigarette smoker, then you may or may not know that a fairly sizable change is coming your way soon. Whether you smoke cigarettes or perhaps have a pal who has a penchant for the menthol flavoured tobacco products, then this blog is for you. Find out what the menthol cigarette ban means for you, how you can combat the change with vaping, as well as which e-liquids will be suitable for you and your body.
Why Are Menthol Cigarettes Being Banned?
Back in 2016, the Tobacco Product Directive (TPD), which governs the smoking laws both in the UK and the EU, announced a four-year phasing out period, aimed at reducing the total amount of smokers throughout Europe. From packaging laws to the removal of tobacco products, implementation of the plan began in 2017 when packets of 10 cigarettes, along with tobacco pouches less than 30 grams were removed from sale. Even though the UK is set to leave the EU following Brexit negotiations, tobacco laws continue to fall under the remit of the TPD.
But why are menthol cigarettes included in the four-year phasing out period? Research shows that an incredible two-thirds of smokers try their first cigarette before the age of 18. In order to create a smoke-free society, an emphasis on reducing the number of underage smokers is essential, which is where menthol cigarettes come into the equation. Known to relax the airways, the strong menthol flavouring masks the harshness of tobacco, thus making them easier to smoke for first-timers. Due to this, TPD deems the removal of menthol cigarettes to play a significant role in reducing the number of smokers throughout the UK and EU with the hope that an estimated 2.4 million smokers will quit smoking.
How to Stop Smoking and Start Vaping
If you're thinking about making the overdue decision to stop smoking, then vaping may be able to help you more than you think. With an estimated 3.2 million vapers in the UK, e-cigarettes helped millions to overcome, what has been traditionally a pretty tricky hurdle.
Because vaping heats a nicotine-based e-liquid solution rather than burning and combusting a tobacco cigarette, you'll immediately eliminate some fairly nasty substances from your daily routine. Tobacco contains an abundance of impurities that when burnt, releases tens of thousands of toxic carcinogens into your body, along with carbon monoxide and a thick sticky tar that clings to your lungs.
The good news for you is that with the right tools at your disposal, you could soon be leading the much sought after healthy lifestyle that you've been seeking for so long. Experience is everything when it comes to vaping, therefore choosing products that provide you with an easy way to get your fix of nicotine when you need it most, should be high on your agenda.
If you're buying a vape pen or e-cigarette for the first time, choosing a fuss-free and easy-to-use device should be your first port of call. A plethora of e-cigarette starter kits are available which provide you with everything you need to get started. Starter Kits supplied by Vapour2 for instance, include a rechargeable e-cigarette, charger and your choice of e-liquid - simple, but so useful for first-time vapers who are looking to explore ways to become smoke-free.
While there may be a multitude of devices that differ in shape, size and cost, keeping it simple with a device like the standard e-cigarette found in starter kits, can make all the difference to whether you will continue to vape, or return sheepishly to the cigarettes that you know so well.
Finding The Right E-Liquid Strength For You
Similarly to the range of cigarettes and nicotine strengths that you may be used to, e-liquids have a similar range of availability, which is where you'll need to pay attention. With a wide variety of e-liquid flavours to choose from, it is, of course, essential to find an e juice that you find palatable. But when it comes to satisfying your cravings for a cigarette, the concentration of nicotine found in your e-liquid is what will count. Available in four strengths, what is great about vaping is that you can easily track your smoke-free progress and reduce the concentration of nicotine when you feel ready to do so.
0% - Nicotine free, this option is a great one to aspire to.
0.6% - Suitable for those who smoke light cigarettes
1.2% - Suitable for mild cigarette smokers
1.8% - Similar to strong cigarettes and rolling tobacco
For those who have a strong addiction to cigarettes and those who are particularly addicted to the throat hit from a cigarette, choosing an alternative to regular e-liquid might be a route worth exploring. Products like nicsalts use raw nicotine salts as opposed to pharmaceutical grade nicotine, which, when combined with benzoic acid, create a throat hit remarkably similar to cigarettes. With a stronger throat hit and only one strength of concentration, it's thought that the satisfaction vapers get from nicsalts, may mean that you need to vape less, which in turn will reduce the habit of vaping altogether.
A similar product, though distinctly different in its make up, is the Voom Pod, which work together with the Voom device. Using tobacco free nicotine, Voom Pods are prefilled pods that simply lock into the position using a magnetic connection.
Is it Safe to Vape?
Contrary to recent public opinion that shows 34% of smokers believe vaping is less harmful than smoking, scientific and expert evidence tells us that e-cigarettes and e-liquid pose much less danger to our health than smoking. So why do so many people think otherwise?
If you've been keeping up with global news, you may know that in 2019 the USA experienced a vaping catastrophe as a mysterious vaping related lung disease swept across the county. With over a thousand hospitalisations and several fatalities, the story left many vapers worldwide questioning whether vaping was safe at all. With the lung illness solely confined to the USA, we eventually learnt that the ingredient Vitamin E Acetate was responsible. A banned ingredient for e-liquid manufacturers in the UK and EU, the good news is that if you're thinking about switching from smoking to vaping, you'll be using regulated products that adhere to the strict guidelines put in place by the TPD.
While the news of hospitalisations and deaths painted a fairly grim picture, the reality is that such a story may have a detrimental impact on the number of people that see vaping as a viable way for them to become smoke-free and lead a healthier lifestyle.
Early evidence, cited by Public Health England in their 2015 report into e-cigarettes shows us that vaping is up to 95% less harmful than smoking and that vaping even has the potential to help smokers quit altogether. While vaping is not entirely risk-free, when compared to traditional tobacco products, any potential harm will be drastically reduced.
5 Top Tips for Staying Smoke-Free
No one said that quitting smoking would be easy, however, the most important thing to remember, is that it is an achievable task, and more importantly, that many millions of smokers before you have attempted and successfully made the transition from smoker to non-smoker. Check out our top five tips for staying smoke-free and vaping happy.
1.Don't go cold turkey! The stress that your body and mind experience when you withdrawal from nicotine is not necessary and may lead you to return to tobacco products.
2.Choose an affordable, fuss-free vape starter kit. This will mean that you avoid splashing all your cash on items that, at this stage of your journey, may not benefit you and your need to curb nicotine cravings.
3.Find your favourite flavour e-liquid. Enjoying the experience of vaping will prove vital in your attempts to stay smoke-free. With a huge range of flavoured vapes available to you, having a few go-to flavours will stand you in good stead on your journey to become smoke-free.
4.Find an e-liquid with a nicotine strength that is suitable for your needs. If you're used to smoking weak to mild cigarettes, choosing an e-liquid with low nicotine such as 0.6% or 1.2% is advisable. If you smoke strong cigarettes, selecting a high strength like 1.8% should abate any urges to return to cigarettes
5.Try and have a support network of friends and family that understand what you're going through. Avoid those who might have a negative impact by nagging and instead opt for those friends of yours who offer words of encouragement and positivity. Every little helps!