Posted by Pure E-Liquids on 31st Oct 2022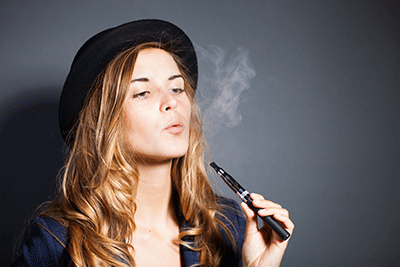 Celebrate smoke-free status and join millions of fellow former smokers across the UK who reduce or completely stop their cigarette habits by turning to vaping as an alternative. Historically, more of a mountain than a molehill to overcome, in recent years vaping has ensured that quitting smoking isn't the great hurdle it once was. Let's take a look at some of the best e-cigarettes that will help you overcome your addiction to cigarettes and why you should stop smoking in the first place.
Six Of The Best E-Cigs To Start Vaping
1. Smok Solus 2
Smokers need something slick, simple, compact and user-friendly for beginners who don't have a clue about vaping. The Smok Solus 2 is just what's needed when you decide to quit smoking for good. You need a device that will make that transition a comfortable one to resist the temptation of picking up another cigarette. With 0.9 Ohm mesh coils preinstalled, you get maximum flavour from your e-liquids, a solid throat hit and enough battery, which should last the day at 700mAh. It works equally well with 50PG/50VG e-liquids or high PG, as well as nic salts. You can reverse the pods when you're ready for the next stage as it supports a decent RDL also. It also features:
Colour schemes that don't attract attention
Generous puffs of MTL cloud
Auto-draw
Efficient pod reversal system to switch vaping styles
Fast type-c charging
2. Uwell Caliburn A2S
Uwell continues to deliver excellent devices for mouth-to-lung vaping with stylish and user-friendly pod kits. None more so the Caliburn series, with the Uwell Caliburn A2S another fine example of simple vaping on the go at its finest. Pre installed mesh coils (1.2 Ohms) inside the magnetic easy-to-refill pods are a breeze for anyone wanting to vape smooth MTL e-liquids. As a new vaper fresh from smoking, and any level for that matter, having a visible pod with an e-liquid window like some of the other Caliburn's is ideal for knowing how much vape juice is left. That way you can always keep topped up and prevent the risk of burning your coil prematurely. It also features:
An innovative matrix lighting system
Side fill port
Compatible with Caliburn 0.9 Ohm A2 pods
Mesh coils
Auto-draw and e-liquid window
3. Geekvape Sonder U
Like a few of the vapes on this list, the Geekvape Sonder U is a super affordable entry-level kit for vapers looking to quit smoking for good. Compact, simple to use and supported by a comfortable MTL mouthpiece, this reliable kit has a large 1000mAh battery and refillable pods. Better yet, you don't need to think about changing the coils, which is an initial puzzle for the occasional new vaper. Instead, they're pre installed in the Sonder U pods, ready to fill with vape juice and inhale. Once they're done, just throw them away and pick up another!

Holding 2ml of e-liquid as TPD regulations require for capacity maximum, you can top up with a variety of high PG or balanced e-liquids. It's supported by 0.7 Ohm coils for a restrictive direct lung but it's tailored more towards mouth-to-lung vaping. Filling up this pod device is easy thanks to the side fill plug. With no settings to adjust, it's tailor-made for those looking to quit smoking and try an efficient device that requires limited knowledge of vaping. It also features:
20W max power
Only auto-draw device to inhale like a cigarette
Large 1000mAh battery
Fast charging with a type-C cable
4. Elf Bar FB1000
While smoking has its obvious dangers and often contributes to serious illness, people who carry around cigarettes are used to keeping a small cardboard package in their bag or pocket. That same portability is evident with the Elf Bar FB1000. The well-liked brand who're reknowned for their disposable collection of products are slowly realising the potential of branching out to pod kits too. The FB1000 has the portability of a cigarette (the kit comes with a lanyard to attach around the neck), a 1000mAh battery for all-day MTL vaping and plenty of flavour from the balanced 0.8 Ohm coils. It also features:
30W of power
Auto-draw or fire button capability
Mesh coils
Only weighs 57g
5. OXVA Xlim
Smokers seek convenience and a trusty reliable device that's easy to use whenever it's required. Some find it daunting to try a new electronic vape kit after the familiarity of a cigarette. All the different coils, technical features and settings can complicate things slightly, especially for those new to vaping. But with the OXVA Xlim, all is simplified in one compact pod kit. It helps smokers to switch because the settings are easy to adjust and ready on the clear visible screen. The Xlim is light to hold, vapes a moderate amount of power at 25W, holds a standard 2ml of e-liquid and stores a generous 900mAh internal battery. It also features:
Automatically updating wattage technology recognising the coil
Pre installed coils
Adjustable airflow
Removable mouthpiece
Only weighs 45g
0.42-inch screen
6. Voopoo Vmate E
Vaping is not recommended for those who don't smoke but one reason it's convinced four million of the UK population to put down cigarettes for good is the stylish and wide-ranging electronic kits available. The Voopoo Vmate E is a good example of this and a potential transitional kit because of its versatility and sleek craftsmanship quality that goes into each device. With a leather panel, protective dust cap and simplistic design, it's easy on the eye pod kit that can switch between MTL and restrictive DTL effortlessly.

Therefore, it's suitable as a crossover device for beginners into intermediate or even experienced vapers that want an easy-to-carry vape system. Thanks to the large 1200mAh battery as well, it won't require charging as often, especially when vaped at a lower wattage mouth-to-lung style, so it's perfect for smokers who don't fancy the idea of charging a device frequently. It features:
Adjustable airflow
Large internal battery
Leakproof pod technology
Puff pressure regulation system
High resistance and lower resistance coils (1.2 & 0.6 Ohms)
Why You Should Stop Smoking
We know how difficult the idea of attempting to quit smoking is. It can seem like a daunting task to rid yourself of what might seem like a habit of a lifetime - however, there is hope with not just nicotine replacement therapies such as nicotine patches and gum but vaping too.

The reason to stop smoking is straightforward, it will not only prolong your life but give you better short-term benefits. Addicted to the nicotine that's found in tobacco, it's no surprise that those who smoke, expose themselves to the subsequent dangers associated with this lethal pastime.

Did you know that smoking-related deaths account for 16% of adult deaths in the UK? While you might think that this number is related and confined to the smoking population, even passive smoking can kill. Those who may regularly breathe in second-hand smoke are more than likely to contract the same kind of diseases as smokers, such as heart disease and lung cancer.

In addition to the potentially fatal consequences of smoking, by quitting today, you can change your lifestyle, removing the toxic carcinogens, carbon monoxide and tar that you breathe in every time you smoke. You'll experience clearer lungs, more energy and save money in the process as you cut down on nicotine.
Can Vaping Help to Stop Smoking?
Back in 2015, Public Health England published groundbreaking evidence showing that vaping e-cigarettes was up to a staggering 95% less harmful than smoking tobacco products. Encouragingly for smokers, the same document suggested that by vaping, smokers have the potential to become smoke-free.

There have been many tried and tested methods that smokers have used in the past to quit smoking. From the ill-advised and stressful process of going 'cold turkey' to nicotine patches and gums, success in becoming smoke-free is never a certainty and will also need certain willpower to get through the worst. While this may have proved a sticking point and stumbling block with smokers' attempts in the past, recent research conducted by a team at Queen Mary University London found vaping to be twice as effective as gums and patches.

By vaping e-juice, it's also possible to become not only smoke-free but nicotine-free too. Available in a variety of nicotine strengths to suit the various needs of smokers, you'll be able to incrementally lower the strength of your e-liquid to the point where eventually, you do not need to vape at all.
With help getting to quit or for more information about vaping and our range of vape products, feel free to contact us.
Celebrate smoke-free status and join thousands of fellow smokers across the UK in ceasing your smoking habits. Historically, more of a mountain than a molehill to overcome, in recent years vaping has ensured that quitting smoking isn't the great hurdle it once was