Posted by Pure E-Liquids on 9th Apr 2021
For decades people have tried to quit smoking, but as we know, giving it up for good is difficult even for the strong-minded among you. Although determination and knowing the risks of smoking can make it easier, it's also important to find the right cessation tool to call it a transition and not a relapse back to old habits.
Recently, many have found vaping as the perfect way to reduce nicotine and quit smoking. But for beginners at least, another challenge begins when you have to learn about all the different devices at your fingertips.
Therefore, we have taken it upon ourselves at Pure E-Liquids to solve the dilemma and find the right product for you.
What Happens When You Quit Smoking and Start Vaping
Mentally and physically, you will instantly see improvements when you quit smoking, which will only get better over time. Needless to say, it's always the small details that trip up your attempts to stop smoking. Quitting is a process and will take time. Those who use nicotine replacement therapies such as patches or gum do not get the full experience that they're used to when smoking cigarettes. That hand to mouth action is not there anymore, which can often feel strange.
However, should you switch to vaping, you get the nicotine replacement and a familiar feeling. Going out for your break at work by firing up an e-cigarette will have a similar sensation. Not only will it save you money, but it will also stop you from inhaling dangerous carcinogens. Making the switch is advised by all the top health organisations in the UK. But to keep up the routine and not feel tempted to switch back, you need to find the right product.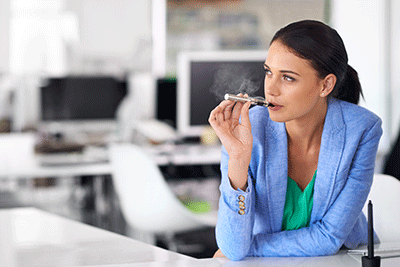 Whether it's a lack of charge in your vape, or not getting the right 'hit' of nicotine, finding a reliable device can be invaluable for many users. But with so many options, which one is right for you and what variables should you consider?
What Vape Should I Get?
Selecting the right make and model vaporiser can make a world of difference, not just for usability but for comfort too. When it comes to cessation or cutting back on your smoking habits, it's important to be as diligent and thoughtful as possible. However, you must also remember that picking out a quality device alone will not cut it.
If you are serious about quitting, it is important to commit to a series of small, achievable acts to help give you a sense of progress and accomplishment. Choosing the right vape can be the first step in a long road to positive change. You'll also need to think about choosing the correct e-liquids to pair with your device and consider all the factors that are important to you. For instance, what's more important between the following:
At Pure E-Liquids, we understand the importance and difficulty of quitting cigarettes correctly. We're not the only ones who back vaping as a vital method to help you quit smoking. This is why we support any work done on national vaping awareness. For instance, campaigns run by organisations such as UKVIA through initiatives like VApril demonstrate the positivity of e-cigarettes alongside the government's plans to stop smoking by 2030.
Types of Vape Devices
Vape Pens: These are exceptionally useful for social or even heavy smokers looking for robust performance through something else handheld. Vape pens offer a great balance between functionality and battery life, retaining their charge for a long period – and you'll often find these grouped as 'Starter Kits', which provide all the necessary equipment and accessories for easy vaping. Intuitive and effective, they can also be dual purpose and allow you to vape e-liquids or switch to your herbal tobacco products, letting you enjoy a night out with ease.
Vape Pods: Extremely similar to a conventional smoking experience, these are great for light smokers who need a physical prop as much as a nicotine supplement. You can find certain devices that cater to those who heavily rely on nicotine, such as the Voom. With it you get a nice draw, amazing with nic salts and even has the option of refillable pods, should you want to get more involved in what you vape by topping up the e-liquid yourself.
Other options include the range of SMOK Nord's, including the latest in a long line of fantastic compact vape pods, the SMOK Nord 4. A truly versatile device, it's a handy transitional pod that can switch between MTL and DTL vaping. Why not swot up on its best features, getting the full rundown of why it's such a popular pod-mod that's flying off the shelves.
You can find out more information about whether you're a mouth to lung vaper or might prefer direct to lung vaping here. Typically, smokers inhale cigarettes MTL but often switch to DTL further down the line as vapers.
Vaporisers: These are great for 'advanced' users looking for a device that can go the distance. The XEO VOID is a fantastic example of a simplistic, entry-level device that offers a great split between functionality and cost-effectiveness. You can effortlessly switch between MTL and DTL coils based on preference. The best of these allow for sub-Ohm vaping that can help eliminate many of the reported long-term risks of vaping while supporting your commitment to quitting nicotine, which should be done gradually.
The Power of Nicotine
One of the first major considerations which should be top of your list when finding that perfect device starts with your nicotine consumption. Depending on your previous habit, you will want to find an e-liquid that matches what your body is used to with your previous levels of intake.
While this is as much an art as a science – each individual is different after all – current supplements fall into three broad categories. For those that were heavy smokers, you'll want to choose a high-concentration e-liquid. Something within the 1.8% range is generally suitable for those who were previously on a 20-a-day habit. For those who would class themselves as light smokers, settling on a 1.2% solution is a good starting point and can allow you to cut back or increase to help find equilibrium. Social smokers can circumvent the process entirely and go nicotine-free with a 0% mix – with a range of tastes and flavours available as viable alternatives.
Of course, while it's tempting to quit cold turkey, make sure you are realistic about your approach. Nicotine withdrawal is a real and serious issue. Ensuring that your body is slowly and safely weaned off the substance is incredibly important. If you are unsure about the strength you should be using, you can try different strengths to find the right product for your current tolerance level.
These days, many vapers like complete control over what goes into their e-liquid. A recent addition to the vaping industry that's now frequently chosen due to TPD regulations is shortfills. All you have to do is pick a suitable flavoured e-liquid that's without nicotine and grab a nic shot to add to your 50ml bottles of shortfill. Give it a shake and begin vaping.
Honorary Mention - Disposable Pods
While we don't condone it, in most cases smoking began in your formative years as a teenager. Because of the strength and addiction to nicotine, it's tough to suddenly stop. The familiarity from puffing a cigarette and throwing away is not lost in the vaping industry.
That's why we have so many different disposable pod kits where you keep the battery but vape the pod until it's finished. Once you're ready for the next one, simply throw it away and add another cartridge. The Voom is a good example of this with lots of different pod flavours that magnetically fit on top of the device.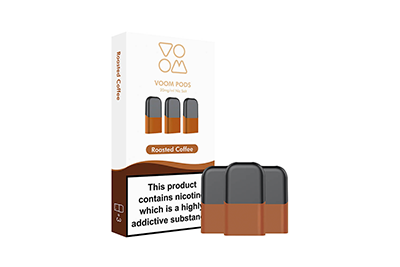 Alternatively, you can opt for the GeekVape Geekbars, an easy choice for those looking to quit smoking and the closest you'll get to the cigarette. With 20mg of nic salt content, it offers up to 575 puffs for a strong hit of nicotine and a stunning design that's easy to carry around. Once you're done, simply dispose before vaping the next flavour.
If you want to learn more about the range of products, you can review our full list of devices through our online store. These contain detailed breakdowns of each product, listing compatibility with different brands of nicotine infused e-liquids and more.
For more information about a device that can help support your attempts to cut back, you can also check out our blog or get in touch with our team directly and let us know exactly what you need to support your attempt to control your habit.