Posted by Pure E-Liquids on 17th Mar 2021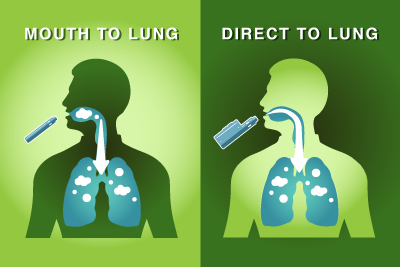 Vaping may seem like a complicated world full of confusing terms when you switch from smoking. But it's absolutely nothing to worry about. Once you pick up the lingo - such as 'MTL and DTL', which will often crop up in conversation with fellow vapers - you'll feel like a pro. The acronym MTL refers to 'Mouth to Lung' vaping, while DTL means 'Direct to Lung' vaping.

In the long run, learning these phrases will help you optimise your vape for the best experience tailored to your preferences. What ratio of Vegetable Glycerin (VG) and Propylene Glycol (PG) is in your e-liquid is key, as well as the devices you select - but more on that later. To begin with, it's important to understand the difference between mouth to lung vaping and direct to lung. That way, you can understand which route you will take in vaping, why it matters and which is better for you - mouth to lung or direct to lung.
What Is Mouth To Lung Vaping?
Mouth to lung is the closest technique to smoking a cigarette you will discover when vaping. You keep the vapourised e-liquid in your mouth for a few seconds, before inhaling into the lungs and exhaling back out. Beginner vapers like this method over direct to lung for many reasons. But the main one has to be a similar draw to smoking, which makes the early adjustment to vaping much easier.

To stop the habit of smoking, it takes a great deal of will power, determination and keeping your mind on something else. Vaping is noted by many UK health and government organisations as an excellent cessation tool to help people stop smoking cigarettes. In terms of the design with a vape pen or some vape mod shapes and inhaling something with nicotine content (which can also be modified to user choice), vaping feels like the younger and healthier brother. As you'll no longer need to inhale dangerous toxins such as tobacco or tar (which creates a sticky black substance in the lungs), MTL vaping in contrast to smoking is much better.
What Is Direct To Lung Vaping?
Just like when you breathe oxygen into your lungs, some vapers use the same technique for enjoying their favourite e-liquids. Common in particular among Sub-Ohm experimentalists, vapour goes straight from your chosen device into the lungs for a more intense experience. It's not popular with most beginner vapers simply because they're not used to the technique. After so long inhaling high levels of nicotine mouth to lung, it will just feel odd switching and inhaling a completely different switching from smoking to vapour.

The body gets used to familiar routines and patterns. Out of habit, will it not be tempting to hold the vapour in your mouth before inhaling in the lungs, similar to smoking? The answer is probably yes and will not be an enjoyable experience, which is explained below in direct to lung disadvantages.
Is Mouth to Lung Bad for You?
Out of the two techniques, mouth to lung is better for you to create a smooth transition from cigarettes. The most recognisable techniques of the two for former smokers, you will not struggle as much to adjust. To begin with, direct to lung vaping will feel 'bad for you' because it could make you cough more. Inhaling too much nicotine will do that - some former heavy smokers in particular who will need to vape often to replicate that high nicotine fix will begin to choke if the concentration is too high. Typically, heavy smokers begin with 12mg e-liquids, attempting to work their way down to zero, while social smokers are recommended to begin on 6mg.

For that reason, beginner vapers should try mouth to lung vaping using nic salts. This popular form of e-liquid has slowly taken over the vaping industry in the past few years, easing freebase nicotine solutions to one side. With higher amounts of nicotine which are easier to absorb because of benzoic acid, you can get your fix and reduce the frequency you vape. A great incentive for chain smokers trying to quit.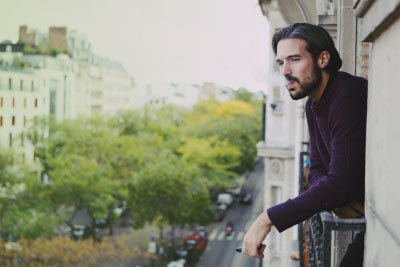 Which E-Liquids Suit MTL And DTL?
As we stated above, MTL vapers will appreciate the high nicotine content from nic salts. But that's not everyone's cup of tea. Some vapers switching from smoking might have a short-term plan to reduce nicotine or a long-term aim to cut out nicotine completely, which can be achieved with the right e-liquids. Whether you want no nicotine or enough to keep you ticking along and off the cigarettes, you have so much choice these days when you vape. A range of flavours, strengths and thickness are at your disposal - should you want a warm vape that creates large clouds or a thin consistency that doesn't thicken your coils, prolonging them (although only temporarily) while maximising the natural flavours.

What it all boils down to is getting the right balance with your VG and PG ratio to compliment your preferred technique. If you didn't know already, MTL is best suited to a 50/50 ratio of PG and VG, but try not to exceed 60% VG. This is because the VG with a thicker consistency needs more power to heat your e-liquid. MTL vapers typically prefer a higher coil resistance above one Ohm, a thinner e-liquid (PG heavy) and less cloud. In contrast, Sub-Ohm vapers of a more advanced level like to tinker with their device features to get bigger clouds and performance. They do this with a higher ratio of VG in a device above 60W with a Sub-Ohm coil below 1 Ohm for optimum DTL vaping. This will allow the stronger sweeteners in a VG heavy vape to work their magic at a higher temperature. You could not do this with an MTL device because it would simply burn your coils.
Advantages To MTL Vaping
Inhale just like you would a cigarette, but with increased health benefits when you vape!
Keeping vapour in the mouth before reaching the lungs creates more flavours, accessing up to ten thousand taste buds!
Easier and offers a smoother throat hit, as you create suspense for the lungs which need more oxygen after the vapour sits in the mouth briefly
Thinner consistency to allow stealth vaping producing less cloud
Vape at a lower temperature
Costs less to run
More narrow mouthpiece than DTL, which is better for a tighter draw similar to smoking
Advantages To DTL Vaping
Cloud chasers hoping to create big shapes will love the production from a more powerful DTL option
Most DTL devices have adjustable airflow, so you can open the vents for a better experience
Sweeter flavours with a higher level of VG when you vape DTL
When you have thicker vapour, it creates a smoother texture, while allowing less nicotine strength with each draw for equal pleasure
Vape at a higher temperature
Best Devices For Mouth To Lung Vape
Mouth to lung vaping is as close as you'll get to smoking a cigarette without inhaling thousands of toxic chemicals, some of which are cancerous. But because it's an addiction that is hard to get rid of, many smokers try any way possible to remove the habit. In the past nicotine gum or patches were your only options. Now, research highlights that vaping can be twice as effective, But to do so, you need a handy mouth to lung vape which keeps the nicotine addiction at bay with a device that's easy enough to use. Lots of vapers want convenience, something in their hand - a familiar feeling like a cigarette and simplicity each time they hit the fire button. Even better if you can find an MTL vape with an automatic draw like a cigarette. Examples of this include the VSAVI starter kit. To use this simply add the cartridge to the battery and automatically draw.

Something slim like the Innokin Jem starter kit might do the trick. With 1000mAh of battery, it's enough to last a vaper most of the day and comes equipped with a pack of five 1.6Ohm coils. Alternatively, you can go for a nic salt pod device like the Voom. It's a simple MTL option with an automatic draw that can even be refilled with your own nic salts e-liquid once the pods are finished. With long battery life and excellent flavour, you can't go wrong as a beginner vaper or a regular wanting a higher strength from nic salts.
Best Crossover Device
The above devices are great for beginners or a useful backup on the go. But for those wanting to step up their game and try something a little more advanced, the vaping industry from the likes of SMOK, Vaporesso and XEO provides several different options for the ideal transitional vape. For instance, the SMOK Nord 4 from the Nord range offers a compact vape pod that has customisable attributes. Following on from the popular SMOK Nord and Nord 2, you have an even bigger battery at a whopping 2000mAh but only 104.9mm in length, nearly equal to 100s from cigarette packs.

For something slightly different, the XEO VOID is a fantastic crossover device. A practical choice for the busy vaper, it provides 100% leak proof technology, an easy fill system for your e-liquids and the ability to swap with ease between Sub-Ohm and higher resistance coils for vaping in MTL and DTL modes.

You can read more about it here. For our top pick, we love the versatility of the Vaporesso Target PM80 Sub-Ohm Pod Mod Kit. It features a Type-C USB charger for powering up quickly, as well as three adjustable wattage settings.

Plus, you have three coil options too to alternate between Sub-Ohm and higher resistance. It's compact, fires up to 80W and all adjustable on a 0.96inch TFT display. What more could you want?
Best Direct To Lung Devices For Advanced Vapers
If you believe you're ready to step back from MTL and try DTL vaping, there are so many options to test out should you feel adventurous. These days devices can support huge wattage numbers if that's what you seek, with settings like temperature control even available to optimise your vape. Before we get to the mother of all vapes, it helps if you can find a simple to use DTL device that produces enough cloud but not over-complicated with multiple features and settings to navigate. One example of this is the SMOK Vape Pen V2. It's a fantastic start-up direct to lung vape that certainly kicks out a lot of flavours. Check out our in-depth review to find out about this compact vape pen.
For the Swiss army knife of vape mods that ticks multiple boxes, look no further than the Innokin MVP5. Where else could you find a vape that provides a flashlight! Aside from that cool feature, it also boasts a massive 5200mAh battery and acts as a charging port too for your mobile if needed. This all in one kit features 0.16 Ohm and 0.35 Ohm coils for producing some serious clouds in Sub-Ohm mode. Going up to 120W, it's more than enough to get the flavour you need from your e-liquids in DTL.
Verdict
Mouth to lung vaping is the way to go, especially for new vapers. Those wanting to quit smoking will still want a high level of nicotine initially and it's just not possible in direct to lung mode. As stated earlier, it will feel harsh on the throat and may lead to coughing. The flavours of your e-liquid come to life with a high PG ratio in MTL mode, it often works out cheaper as you need less battery with your device and the cloud size is less, which is similar to smoking. Nic salts are a great choice to get the correct amount of nicotine with minimal fuss and a smoother throat hit.

However, the good thing about vaping is it caters to all levels and interests. For many that enjoy the benefits above, curious vaping enthusiasts wanting to expand their knowledge and seek large clouds or a warmer vape may want to try direct to lung vaping. Just ensure you match up your coil recommended wattage with that on your device and select the right e-liquid. We hope all this information helps to make the correct decision on whether mouth to lung vaping is better than direct to lung vaping. If you have any further questions, the Pure E-Liquids team is happy to help with any recommendations or advice. Happy vaping!
Vaping may seem like a complicated world full of confusing terms when you switch from smoking. But it's absolutely nothing to worry about. Once you pick up the lingo - such as 'MTL and DTL', which will often crop up in conversation with fellow vapers - you'll feel like a pro.