What Are Nic Salts? A Complete Guide and Comparison With Freebase Nicotine
Posted by Pure E-Liquids on 18th Nov 2020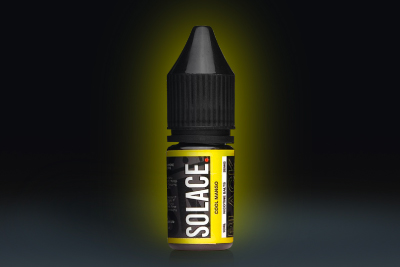 There are several reasons to quit smoking; including improving your overall health and saving money! But taking cigarettes out of your life is a challenge because it's such a strong addiction. Many now look at vaping as a better alternative, and even as a technique to stop smoking completely. To kick a bad habit, while still getting the nicotine kick your body craves - freebase nicotine and more recently nic salts can provide the answer.
Understanding the difference between the two is important. While lots of vapers still like to use freebase, nicotine salts are increasing in popularity for multiple reasons. To get a better idea of which is right for you, read on to find out the best devices for each method and the key advantages of nic salts.
What is Freebase Nicotine?
If you want the purest form of nicotine, this is the e-liquid for you. Ideal for Sub-Ohm vapers and those with a more powerful device, freebase nicotine absorbs slower than nicotine salts. Nevertheless, what's good about this e-liquid, which you can find in lots of different flavours, is its suitability across all devices. In contrast, nic salts are more suited to less powerful devices. You can find out more about the best devices below.
Nicotine binds together with ammonia to create the freebase popular with the majority of vapers. This allows the particles from nicotine to move more 'freely' around the body and into your system. However, the downside of freebase nicotine is the harsher throat hit you can get. For new vapers switching from smoking, this can be too much, creating a situation where they feel like returning to cigarettes. Plus, because your flavour reduces with freebase too, it's sometimes harder to enjoy the natural flavours from your vape. But wait - there's a solution.
What are Nic Salts?
The introduction of nic salts may be the most welcome news for smokers following the emergence of the vaping industry. Nicotine salts differ from freebase nicotine because of the added ingredient - benzoic acid.
This allows a much quicker absorption of nicotine into the body - ideal for stealth vapers or those on a short work break needing faster results. Benzoic acid reduces the PH level of a nicotine solution, providing smoother hit smokers crave. Plus, it creates a greater flavour for the vapour to enjoy.
As more companies produce nic salts in a variety of flavours, more options and a stronger level of nicotine in fewer vapes improves the overall experience for former smokers.
Advantages of Nic Salts
You can vape at a lower temperature, using less e-liquid but still absorbing more nicotine
Nic salts work faster, meaning quicker absorption into the bloodstream
Works perfectly for 'Mouth to Lung' former smokers
Higher nicotine strengths than freebase
Requires less vapour production
Advantages of Freebase Nicotine
Great for bigger clouds and more powerful devices using Sub-Ohm technology
More bang for your buck than with nic salts
Those seeking pure nicotine will prefer this option
Works equally well with 'Direct to Lung' and 'Mouth to Lung' vapers
Suitable with the majority of devices
Is Vaping Salt Nicotine Bad for You?
Vaping nic salts at a high level frequently aren't something we recommend. Many vapers reference this as a reason what turns them back to smoking. Because you're vaping higher levels of nicotine directly into the bloodstream at a faster rate, it can produce bad results. Not just a much harsher throat hit but quickly losing the necessary flavour too.
Therefore, the best option is to avoid more powerful technology. If you try to use nic salts in a high powered wattage device, it could completely ruin the vaping experience. Comparing vaping salts with freebase, there is no major difference other than the addition of benzoic acid. Because this is a natural chemical used as a food preservative, it will not do any more damage to the body.
Why Smokers Turn to Nic Salts
We all know the damage smoking does to the body. More than eight million die a year from tobacco-based products like cigarettes. While being completely cigarette and vape free is the best outcome, vaping is a good way to gradually reduce nicotine consumption. However, the reason so many continue to smoke is an addiction, as stated earlier. Fighting that battle can be tough and many respected sources point to e-cigarettes as a smarter alternative.
What's the Best Nic Salt Device?
Choosing the right device for your nic salts depends on a few important factors. As we mentioned above, too powerful a device with high nicotine content is a bad combination. This particularly applies for beginner vapers wanting an easy transition to resist the urge of cigarettes.
So what you're ideally looking for is a pod device that's easy on the eye, suitable for stealth vaping and offers less vapour production. The less technical the better, so it's all about the nic salt intake into your system and no need to mess around with buttons. If you can find a pod device with a puff counter, even better for tracking your nicotine levels. Also, you'll need to follow these important steps and frequently asked questions:
Understand How to Vape Nic Salts
Inhaling nic salts should be a similar process to smoking. Because many smokers use a mouth to lung technique, the same appeals when switching to vaping. Avoid a direct to lung inhalation because the nicotine levels are higher with nic salts.
First, take a draw of nic salts vapour into your mouth. Keep it there for a couple of seconds max. Without swallowing, breathe in the vapour to your lungs once you open your mouth. Finally, exhale once the vapour reaches the lungs.
What's the Best Wattage for Nic Salts?
It's key to not go too high in terms of wattage for your nic salts. Keep it lower than 15 watts and you will have a premium vaping experience with your chosen nic salts. Anything higher than that could cause a sharp throat hit and loss of flavour.
What Ohm Coil For Nic Salts?
To avoid any nasty surprises i.e a burnt coil and horrible taste, keep it simple. The strength of your Ohm coil depends on the nicotine quantity in your nic salts. For instance, most vapers go for 20mg of nic salts because that's relevant for smokers who typically go through a pack of cigarettes a day.
Therefore, finding the right coil resistance matters because too low an Ohm strength will burn the coil with a 20mg nicotine level. To keep that optimum taste, also consider the material you choose. Our tip is selecting a ceramic coil for a smoother experience.
Our Top Picks
What we love about the vaping industry is the constant innovation from some fantastic developers. Below are our favourite devices, which work particularly well with nic salts. However, you can find even more information about why they are our best nic salt picks here. Whatever you decide, we're more than happy to help with any questions you may have about choosing the right nic salt to pair with a suitable device.