Posted by Pure E-Liquids on 16th Jan 2021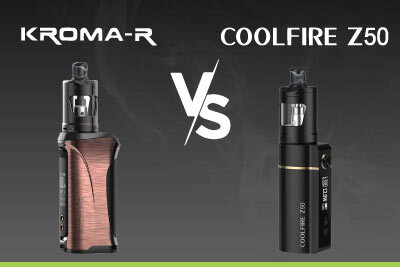 Vaping is a divisive subject in multiple ways. Starting as a cessation tool to help millions quit smoking, it's now developed into much more than that, becoming a sense of community and debate for many enthusiasts. You'll find vapers discussing long into the night with each other about the best brands of coils, e-liquids and even devices. For the latter, you can rest assured that Innokin certainly features highly on that list. Each model is different in its own right, but comparing two popular devices is a smart way to decide which to test out for yourself. Like a great boxing match duel, let's put two popular heavyweights in the ring and see which model from Innokin comes out on top. On one side of the ring, you have the impressive Kroma-R model, while in the other corner you have the CoolFire Z50 ready to do battle and prove its mettle. Let the competition begin!
But how do you even begin to dissect two different devices? What's great about vaping is the variety and level of technicality that goes into each experience. While every passionate vaper is on a different journey, they all do the same thing. However, with beginners, they typically seek a more intense throat hit closer to the sensation they used to receive as a smoker, in the shape of the mouth to lung (MTL) inhale. This later moves on to a more advanced level through direct to lung (DTL) vaping with a Sub-Ohm device for bigger clouds and flavour. Picking the right vape is a huge part of finding a level that suits you. Lots of different aspects factor into your final decision, such as whether you want temperature control or a device that can alternate with which coils you can use. So many have switched from smoking cigarettes already, not just for the health benefits, but because they like all these different options. So let's explore what the Innokin Kroma-R and Coolfire Z50 bring to the table, explaining what we like and dislike about each to help you guys and girls out.
How the Kroma-R and CoolFire Z50 Look - A Style Comparison
So you have thrown away the cigarette and turned to vaping as a tool to quit? Congrats, since you've joined the club the different options at your fingertips are endless compared to smoking. Instead of just looking at the same white stick with a brown end, now you have different colours, device sizes, textures and mouthpieces, equipped with tanks or pre filled pods too. Each is unique based on what brand you opt for. The likes of SMOK, GeekVape and Vaporesso have to compete in a thriving industry by continuing to innovate. Fail to deliver something stylish consistently and they will be left behind. As you can see from the Kroma-R and the CoolFire Z50, neither disappoint in that department.
First, let's take a look at the key design features of the Innokin Kroma-R:
Three professional finishes on the colour scheme with grained paint texture in grey, copper or black
Rubber grip for easy holding of the device at the back
OLED screen display
Ergonomic design
With the CoolFire Z50, it stands out more in terms of the bold colours available to vapers. The gold trimming on the blue design looks slick gunmetal and stainless steel look ultra-professional. You'll forget all about cigarettes after seeing how impressive these models stand out in a crowd! One consideration as a comparison between the two, while we appreciate the practicality of the Kroma-R device, the Z50 looks a little rougher around the edges and maybe slightly more uncomfortable to hold for long periods, but vaping preferences differ from person to person.
What Kind of Vaper Are You?
The big question - because everybody has a preferred method when they vape. You're usually either loyal to MTL or DTL vaping and this is important when discussing the Kroma-R against the Coolfire Z50. It's nice to have the option of both techniques, with each device offering minor flexibility to achieve both, although we would like to note that the CoolFire and the Kroma-R are tailored made more for MTL vaping. Because of the adjustable airflow on each device (both support the fantastic Zlide, a popular tank with many vapers), you can switch between MTL and DTL if you wish. However, because of the lower wattage and absent temperature control on both devices, DTL is limited. Here are some other handy features with the zlide tank:
22mm diameter
A replaceable Pyrex glass tank
Coil heads you can swap when needed
2ml capacity (EU regulation)
Sliding top fill design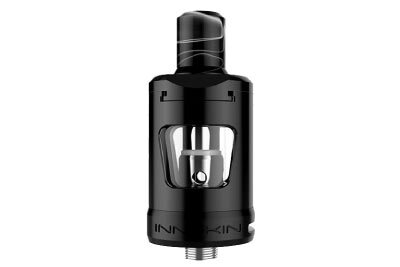 You have a range of options with coils including most Zenith and Zlide coils, meaning you can adjust to suit your preferred inhalation technique and optimise the flavour and cloud production. Add on a handy drip tip with both devices and you get really nice performance with both, making it hard to separate the two when measuring which provides the best vaping experience. For variation, you can mix it up with Zenith Pro or Zenith tanks in 22mm and 24mm diameter.
Which Device is Easier to Use?
Coming from the same brand, Innokin kept to their similar tried and tested method for the CoolFire Z50 and the Kroma-R, two relatively small but easy to use mods. With similar navigation, there is not much division between the two in terms of turning them on and off, as well as accessing the key features. Both require three clicks of the fire button to switch the device on and ready for use. The same applies to turn each off. For the Innokin CoolFire Z50, you can go up and down in increments of 0.5 to adjust the voltage by pressing the down button and fire button together. Tap the up button on its own to change the wattage level from 6W up to a maximum of 50W. A neat little feature is the puff counter, ideal for smokers wanting to monitor their intake. Simply press up and down together to access this.
For those looking to try in DTL set up, you have a better chance with the Kroma-R because of the higher wattage, which goes up to 80 watts, beginning again at the lowest count of 6W. Below is the way to navigate this stylish device:
Press the firebar on the screen to release vapour.
Up button and fire button together to check your puff count.
A useful setting - lock your device to avoid it turning on in your pocket by holding the fire button and down arrow at the same time.
Up and down arrows together to access the main menu.
Other Technical Features and Key Performance Specifications
CoolFire Z50 Advantages
A large battery of 2100mAh, meaning easy all-day vaping, especially for MTL preference
2ml tank
Single 18650 battery
Easy on and off switch at the bottom of the device
Disadvantages
Lower wattage capabilities than the Kroma-R
Micro USB port instead of more popular type-C
Kroma-R Advantages
Child lock safety features
Boost, normal and soft vape modes
0.003 response when pressing the fire button
Single 18650 battery
Disadvantages
1000mAh battery - much shorter battery life, meaning more charging, especially if in DTL operation
Firebar is handy but means you need to touch the screen when holding it in your hand
Gloves are Off - Who Wins the Duel?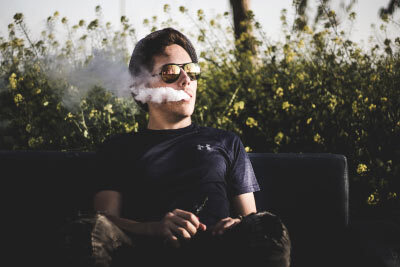 If you're seeking a mod device that kicks your vaping journey on to the final stage where you can produce huge clouds, have a long-lasting battery and modify multiple features to optimise the performance, neither of these is suitable. However, on a basic level, the Innokin Kroma-R and the CoolFire Z50 impress and will certainly help those wanting to transfer from an easy to use pod to something a bit more advanced.
We love the style and handy battery power the CoolFire provides but think in terms of ergonomics and slightly more wattage, the Kroma-R Zlide Kit just nudges it for a great transitional MTL device. Temperature control would be nice on both if you really want a smooth warm experience on the throat, but overall you can't go wrong with either.