Posted by Pure E-liquids on 26th Oct 2021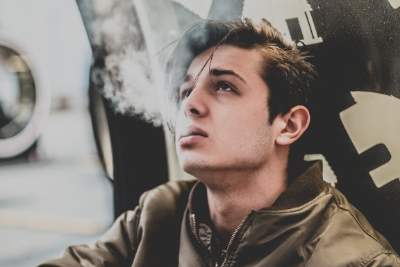 Can you see the finishing line for Stoptober? Hopefully, you embraced the challenge successfully - with 28 days nearing its conclusion if you began Stoptober on the first of the month. By quitting smoking for good, you've done your body, mind and finances a great service. Regardless of whether that's by starting to vape, or other nicotine replacement therapies such as inhalators or nasal sprays, it's whatever works best for you. Even though you've done fantastic so far, there is still some way to go yet!

The first month without a cigarette is the hardest but the next five months that follow are just as challenging to resist a relapse. Here's what you need to know to help you quit smoking for good, how your body will feel and the impact vaping could have as a long-term alternative method.
Stop Smoking And Start Vaping - Health Timeline
The evidence is in the scientific research and from the hundreds of case studies. They demonstrate how your body changes drastically for the better when you put down the cigarettes and resist the temptation to pick them up again. Quitting smoking can be tough, but with the right kind of support network around you, and by using alternative nicotine products to curb your cravings - a healthy new you awaits at the end of the finish line. Below is a timeline of the changes you'll see when you continue to stop smoking past the first month:
Within two to 12 weeks, blood circulation improves. Walking those extra steps or a jog through the park will feel much much easier!
Your immune system will thank you kindly - by making it easier to fight off colds and flu. Meanwhile, an increase in oxygen in the body could reduce tiredness and potential headaches.
It's not just Covid that reduces the sensation of taste and smell - smoking does too! Once you put down the cigarettes, this will improve over time as your senses come back in full swing.
Lung function increases by up to 10% between months three and nine, improving breathing problems and reducing coughing.
Needless to say, the health benefits of becoming smoke-free are an enormous incentive to quit smoking. Once you've stopped smoking, your body will begin to repair itself over some time. From clearer airways, blood flow and increased lung capacity, to rejuvenated energy levels, reduced risk of stroke, heart disease and cancer – quit smoking today and find a healthy new you waiting just around the corner.

Resisting the urge to smoke and starting to see these health improvements are great early steps. But all the good work can be undone with a simple relapse. It happens quite often when trying to quit because the addiction to nicotine and the other substances in a cigarette are so high. Follow the tips below and you'll give yourself an even better chance of reaching the six-month mark!
Avoid Going Cold Turkey
Did you know that 58% of smokers mistake nicotine as the cause of smoking-related cancers and disease? It's for this reason that many decide to go cold turkey in their attempts to become smoke-free. Opting to go cold turkey and give up your nicotine supply without any due warning to your body will result in a few unwanted consequences that can be difficult to cope with.

Your body will notice that there's a lack of nicotine in your body and will begin a series of events as it coaxes you with cravings and urges to pick up the cigarettes. Headaches, sweating, irritability and anxiety will all contribute to you being in a pretty bad mood, which others may struggle to be around too. Choosing to vape instead of going cold turkey could be the difference between saving your sanity and your relationships. Our advice? Don't go cold turkey after Stoptober ends.

Instead, slowly begin to reduce the amount of nicotine you inhale with a vape kit that's not too advanced.
Go Steady With a Simple Kit After Stoptober
When it comes to vaping and staying smoke-free, the experience is everything. This means choosing a fuss-free, easy to use e-cigarette. Our recommendation? Vsavi's Starter Kit is designed for first-time vapers to become accustomed to vaping. The kit has everything you need to vape straight away including a standard e-cig battery, USB charger and your choice of flavoured e-liquids for you to sample and identify a favourite.

Similar in shape to a traditional cigarette, once you've found your vaping feet, so to speak, you'll feel more adept to look at the wider world of vaping and the variety of devices that are available on the market. The Innokin Jem vaporiser is another smart choice for those looking for something a little bit different.

Should you be near the end of your first month without a cigarette, great job! It can often help to try a new device that can help you maintain your nicotine reduction levels. Starter kits are a great first step but they often lack more advanced features and battery capacity to keep up with your demands.
Select the Right E-Liquid Flavour
As we just mentioned, the experience is everything when you start vaping, which is why it's so important for you to be satisfied with the flavour and taste of your e-liquid. Avoid cheap e-liquids and do some research into brands and the ingredients they use.

Some manufacturers tend to opt for synthetic instead of natural flavours to create a wide range of e-liquid options available to vapers. However, this can lead to a nasty aftertaste once you've vaped, which will taint your vaping experience, and make you more likely to return to the cigarettes to get a satisfying nicotine fix. Because vaping is a healthy lifestyle choice, choosing a premium e-liquid that uses natural flavours should be high on the agenda. Brands like VSAVI set an example as an e-liquid manufacturer, known and respected for their natural ingredients lists and flavourful tasting vapes.

While you may have a good idea of the type of flavours you like, before deciding on bulk buying a year's worth of cola flavoured vape juice, try and find a few flavours that you enjoy.

Vaping one flavour of e-liquid constantly can have the potential to congest the olfactory sensors in your nose, leading to a loss of taste and smell. Easily cured, drinking lots of water and having a few favourite flavours means that you can flip and switch which e-liquid you vape depending on how you're feeling. Choosing a speciality sampler pack that contains a range of flavours will certainly help you find out which flavours you're going to vape with in the future. Alternatively, you can speak to our customer service department if you need further assistance on your journey as a vaper following a successful Stoptober!
Can you see the finishing line for Stoptober? Hopefully, you embraced the challenge successfully - with 28 days nearing its conclusion if you began Stoptober on the first of the month.