Smok MAG 225W Kit & TFV12 Prince Tank
The latest 225W Smok Mag kit from Smok includes the UK TFV12 Prince Beast tank and comes with a cool, trigger-like fire button as well as a 'lock & load' battery bay – just press the flower shaped button and battery box pops out. MAG also adopts a high-definition OLED screen. The Smok Mag shows you specific vape data in a clear way, such as VW/TC MODE, vaping effect, voltage, battery life, resistance value and more.
Buyers Beware, there are a lot of Smok clones - if it's too cheap is it too good to be true?
The best ergonomically designed UK Mag kit made to date!
The UK Smok Mag screen features an easy-to-read menu and features 6 info-lines and shows wattage, mode, dual battery indicator level for each cell, resistance, coil type, puff time and number of puffs. At the top of the Mag, there's a 510 connection and on the side, the oversized hidden fire button is beautifully integrated into the design. The shell is contoured for a very smooth to the touch feel and the Smok Mag is easy to operate having a well designed combination of USB port, OLED screen and function buttons.
Mag kit in action
Fast and furious, lock and load, it is 225W Mag kit! You can pull the trigger to vape. The Mag has large HD color screen that displays specific data. And it uses the new revolutionary TFV12 Prince tank, which has an unprecedented super large capacity up to 8ml (Extensions can be purchased separately). With all new and powerful vaping cores this Prince ensures you will have a great experience. We have also incorporated a patented tank locking mechanism that ensures a perfect seal. When the MAG meets the PRINCE you will be pleasantly surprised!
MAG vaping kit requires 2 x 18650 batteries (sold separately).

Smok MAG kit UK contents:
1 x Smok MAG 225W Box Mod
1 x TFV12 Prince Tank (2ml)
1 x V12 Prince-Q4 0.4Ω quadruple coils (Pre-installed)
1 x V12 Prince-T10 0.12Ω decuple coils
1 x USB cable
1 x User manual
Spare Parts
Smok MAG 225W Specifications:
Mod size: 92.3 x 65 x 30mm
Mod weight: 265g
Power range: 6W-225W
Output voltage: 0.5V-9.0V
Resistance range: 0.1Ω-3Ω(VW) / 0.05Ω-3Ω (TC)
Standby current: <500uA
Temperature range: 200F-600F / 100C – 315C
MAG UK Features:
Gun handle shaped ergonomic design for easy handling
Small, trigger-like power/fire button
Easy battery installation with 'lock & load' battery bay
High definition OLED screen
HD user interface with 6 colours to choose from
Dual battery life indicator
Support for USB charging and firmware upgrades
Intelligent atomizer recognition
Built-in short circuit and over heating protection
Three power modes to choose from: Temp Mode, Watt Mode, and Memory Mode
TFV12 Prince tank features:
Tank capacity: 2ml (TPD compliant)
Material: Stainless steel
Thread: 510
Weight: 63g
Diameter: 25.5mm
Height: 63mm
Want Maximum Vapour?
Our pure organic tested VSAVI EcoVape VG e-liquid is specially formulated to be less viscous and therefore can be used with Box Mods. Pure 100% VG, no dilution, no compromise!
Note: This is a sub ohm device, generally use only 0.3 or 0.6 mg strength nicotine.
The Smok TFV12 Prince Tank of choice. LEAK FREE VAPING
Your Smok Mag TFV12 Prince UK tank is manufactured with precision so will not leak providing you use the product and parts correctly. Where any leaks have occurred, we have solved almost all by taking the following steps.
When using the Smok Prince tank for the first time ensure all the parts of your tank are tightened properly, this involves finger tightening then an extra 1/16th turn
Ensure the O-ring seals are correctly in place
Make sure the Smok Mag coil in the tank is finger tightening then an extra 1/16th turn
When cleaning or replacing the coil carry out the above procedures.
Ensure you have the correct temperature/power settings for your particular device. Coils for example have ratings and should be kept within maximum and minimum recommended settings. Too high and your device will pop and crackle which may cause spots of e liquid to escape via the air-intake.
Where product has been returned, we have found that TIGHTENING the PIECES properly resolves any leak issue.
ABOUT SMOK UK
Smok is a leading brand of electronic cigarettes which specialises in the manufacture and research of vape products. As a result of Smok's ability to innovate with new developments and patented products, the company is known as a sector leader in variable wattage and temperature controlled vape mods and e cigarette devices.
The Smok Alien is one of the best selling Vape mods world-wide and the new Smok Mag looks to build on Smok's excellent reputation. Both the Smok Mag and Alien continue to feature as probably the best vape mods in most independent Smok Alien Reviews.
Smok was founded in 2010 and is based in Nanshan district Shenzen City, a major worldwide hub of the electronic cigarette supply chain. The introduction of the Smok Mag again puts Smok firmly at the top of the vaping tree and a major player in high specification power-vape devices. The Smok Mag is now the UK's leading high-spec vape mod.
Smok Mag User Guide
Download our Smok Mag user manual and helpful hints.
Smok Mag: Screen Colour Options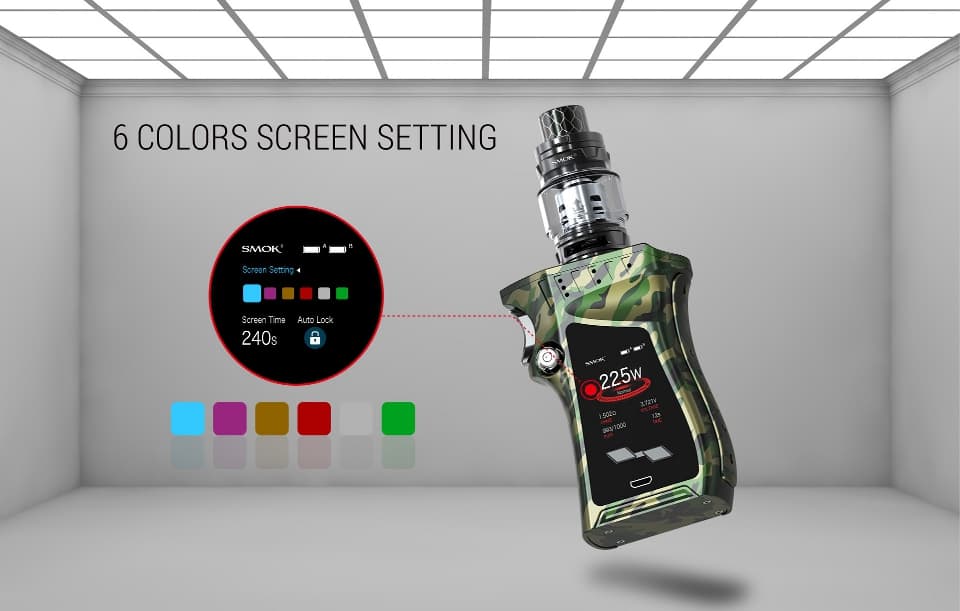 Mag now with Firmware Upgrades
Having worked my way through many devices, this is by far the best simple to use and a great vaper cannot recommend it highly enough.

great price, great product

Arrived quickly and everything was there. Great quality and very happy with it, would definitely consider pure Eliquids when looking for anything else similar. Quick responses aswel from customer service when asked a question