Posted by Pure E-Liquids on 24th Jan 2020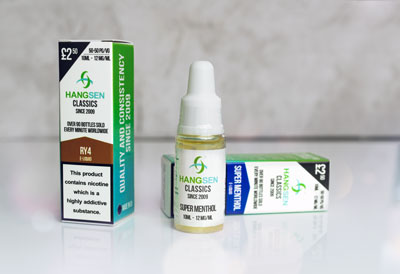 Whether you're a seasoned vaper looking for a new brand, or a first time cloud chaser - finding the right taste for your e-liquid can feel almost impossible.
But if you're one of the half of Britons currently vaping, being able to choose from Hangsen's, you're very much in luck.
Recently launched on our site, Hangsen have been hand-picked by us for their unique combination of variety and quality; making them ideal those looking for a change or simply not sure where to begin.
So, what exactly makes Hangsen such a quality pick and where should you start?
Who are Hangsen?
One of the longest standing producers in the industry, Hangsen was founded in 2009 and quickly became known throughout the world for their best-in-class products - with over 1000 employees working for them in highly regulated sites across North America, the EU, and Asia. The company first managed to secure a foothold in the market through a commitment to quality and emphasis on technological excellence. All their products are designed to last longer on devices, providing exceptional value for money without sacrificing quality.
This commitment to durability and taste soon saw Hangsen spread their development and distribution network throughout the globe, allowing them to source the best components and vaping materials possible. This led to them becoming immensely popular throughout Asia and allowed them to easily circulate their product while remaining fully compliant with numerous international regulations.
Known for their ubiquity and unerring quality, the Hangsen e-liquid range is a great entry level product for individuals new to vaping and seasoned individuals looking for their new favourite brand. So, if you're struggling with finding a vape pod that's right for your device, there's no need to look any further.
Why are they worth giving a shot?
Hangsen specifically design their e-liquids with consumers with mind, with many users struggling to maintain their devices after moderate to heavy use. This led the company to make their PG e-liquid line much gentler on your vaping coils, letting them last longer and avoid the acrid 'burnt' taste that many vaping products can produce.
Their line of e-liquids is also designed to work efficiently with low-power devices, producing significant clouds and full taste without requiring extra power from your battery – with many Hangsen brand devices using Grade A cells and priding performance above all else. This commitment to care and confidence carries through to all their products, ensuring the highest possible standards at all times.
What options do you have?
Hangsen e-liquids come in a range of styles, breaking down into three categories to appeal to those that are looking to try something new or effectively cut back on their smoking. These include-
Tobacco: These are designed to closely emulate the taste and feel of smoking tobacco. This includes the best-selling RY4 range that melds toasted textures with hints of vanilla and caramel. We also offer Classic and Golden Tobacco options to help you control cravings for carton or hand rolled cigarettes.
Menthols With a recent ban coming into force, it's important to ensure you're not caught out. Hangsen's Menthol and Super Menthol line both contain an authentic menthol hit that rises with intensity but never overpowers – with the 'Super' brand providing a sharp arctic breeze of that instantly refreshes and helps leave your airways feeling clear.
Fruits: It's impossible not to dip your toe into the world of vaping without enjoying some delicious flavours and, here, Hangsen are no exception. Their current line includes a wealth of winter fruits with blueberries and blackcurrant options, summertime treats like strawberry and lemon lime flavours, and the tropical explosion of mango. All delivering an authentic, flavoursome blast that ensures all palates are catered for.
| | | |
| --- | --- | --- |
| | | |
| Golden Tobacco | Super Menthol | Blueberry |
No matter what you choose, you can be assured of the highest standards of quality and choice – letting you have the vaping experience you deserve every time.
What next?
If you want to find out more about our Hangsen products, you can view our online catalogues for our range of vaping devices or e-liquids in full. Or you can take a look at our favourite Hangsen products and with a click and see if they are right for you.
If you have any questions about the Hangsen range or our selection of flavours, please do not hesitate to get in touch directly and let our team know exactly what you need to find the right product for you.