Product Description
Kangertech Toptank Nano 2
DISCONTINUED; OLD GENERATION. SEE NEW GEN MESH TANKS

Improving on the Subtank Nano which was known to be one of the most reliable sub ohm tanks, the Kanger Toptank Nano 2.0 improves on the core design of its predecessor as well as offering a brand new top filling design. More vapour and more flavour!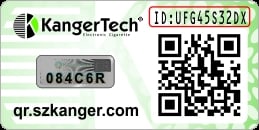 Watch out for cheap imitations. Ensure your product is authentic Kangertech
Featuring a slightly more compact design than its Toptank Mini counterpart, the Toptank Nano 2.0 is an ideal choice for those who enjoy the benefits of sub ohm vaping and the portability of a smaller form factor.
Kanger Toptank Kit Contents:
1 x TopBox Nano Tank (1.9ml)
1 x 1.2 ohm Kanger SSOCC coil
1 x 0.5 ohm Kanger SSOCC coil
1 x User Manual
1 x Authentication code guide
Kanger Toptank Features:
Tank Capacity: 1.9ml
Height: 45mm
Diameter: 18.5mm
Additional coils
Adding coils will add a 5 pack of Kangertech's most popular upgraded Stainless Steel version of the Kanger OCC coils, the KangerTech SSOCC replacement Coils
Leak Free Vaping
Your device is manufactured with precision so will not leak providing you use the product and parts correctly. Where any leaks have occurred, we have solved almost all by taking the following steps.
When using the tank for the first time ensure all the parts of your tank are tightened properly, this involves finger tightening then an extra 1/16th turn
Ensure the O-ring seals are correctly in place
Make sure the coil in the tank is finger tightening then an extra 1/16th turn
When cleaning or replacing the coil carry out the above procedures.
Ensure you have the correct temperature/power settings for your particular device. Coils for example have ratings and should be kept within maximum and minimum recommended settings. Too high and your device will pop and crackle which may cause spots of e liquid to escape via the air-intake.
Where product has been returned, we have found that TIGHTENING the PIECES properly resolves any leak issue.
Product Videos
Custom Field
Discontinued
THE NANO 2 HAS NOW BEEN UPGRADED TO THE ASPIRE CLEITO AND THE NEWER GENERATION TANKS USING NEW MESH COIL TECHNOLOGY
Product Reviews