What is Sub-Ohm Vaping?
Posted by Pure E-Liquids on 18th Jun 2020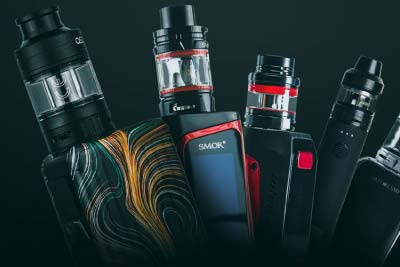 Are you thinking about going sub-ohm? If you're new to vaping, then you're probably becoming aware of the vast vocabulary associated with the great wide world of e-cigarettes. Let's get the lowdown on sub-ohm vaping and find out more about this hugely popular way to vape.
What Does Sub-Ohm Mean?
Sub-ohm vaping refers to the low resistance coils used in e-liquid tanks. Haven't got the foggiest idea what we're talking about? A key component of vaping is your coils. Found within prefilled cartridges, refillable e-liquid tanks and vape pods; metal coils transfer the power and energy from your battery, onto the wicking material found attached to your coil. The wicking material, saturated by e-liquid from your tank, then evaporates the e-liquid in order to create an aerosol that is then ready to be vaped.
The power of electrical current that travels through your coil all depends on the resistive qualities of said coil. The resistance is measured by ohms, which is, of course, the topic of our conversation. The more resistance a coil has, the less electrical energy will be able to pass through. Therefore, logic dictates that the least resistance a coil has, the more electricity will be able to get through, thus heating your wicking material to a higher temperature and concluding with some pretty sizable vapour clouds. Sub-ohm vaping means that the resistance of the coil is less than 1ohm, hence sub (under) ohm. Are you still with us?
Do I Need a Special Kind of Vaporiser?
When the word e-cig is used, the image conjured in your mind will probably be the kind of device that mimics the shape and size of a traditional cigarette. Relatively low powered; these devices are still a great way to stop smoking; however, it's safe to say that once you're a vaper, your intrigue may lead you into a wonderful world of devices that vary in shape, size and functionality. From vape pens to vape pods, there is a range of devices manufactured to suit the multitude of preferences that exist amongst the vaping community.
But because a predominant aspect of sub-ohm vaping is cloud chasing, there will be a specific kind of device that you need. Vape Mods are part of the natural evolution of vaping and were explicitly designed with sub-ohm vaping in mind. Vape Mods essentially allow you to modify your vaping experience, be it airflow, wattage or temperature, hence the name 'mod'. More importantly, it is all these different kinds of functions that enable you to create the vast plumes of vapour suitable for cloud chasing.
While vapers with a relatively decent understanding of science may enjoy building their own coils and tanks, there are a wealth of amazing sub-ohm devices that afford you the options to truly customise your experience depending on your preferences. From the superb brands like Innokin to Vaporesso, finding a sub-ohm device that suits your needs is an adventure that is just waiting to be undertaken.

Which E-Liquid Should I Use?
As you'll know, there's a massive range of different e-liquids that exist. Whether or not you have a particular favourite flavour that has become your go-to e-juice to vape with; in order to fully appreciate the experience of vaping sub-ohm, you will need to take a look at the ingredients of your intended e-liquid, with particular attention paid to the PG/VG content.
A common rule of thumb to consider is that PG (propylene glycol) creates a great tasting vape and VG (vegetable glycerin) produces thick vapour clouds. Because you might likely want both, many e-juice companies create an optimal blend that lets you experience the best of both worlds. But if you're choosing an e-liquid that you wish to sub-ohm vape with, choosing a juice that has a favourable VG ratio or even a 100% VG such as VSAVI's Gourmet Range of e-liquid is what you should be looking for.
How Do You Vape Sub-Ohm?
The way you sub-ohm vape will be slightly different to the way you would vape a standard e-cigarette or vape pen. Similarly to how you would have smoked back in the day, many of the lower-powered devices involve mouth to lung (MTL) vaping. This means that vapour travels from your device and to your mouth, before moving to your lungs. In contrast, sub-ohm vaping involves the vapour travelling directly to your lungs (DTL), while bypassing the mouth altogether. Due to the extra power, adjustable airflow and high VG e-juice, your vape mod will create much more vapour, which in turn creates the vast vapour clouds that have become a familiar sight.