Posted by Pure E-Liquids on 29th Nov 2019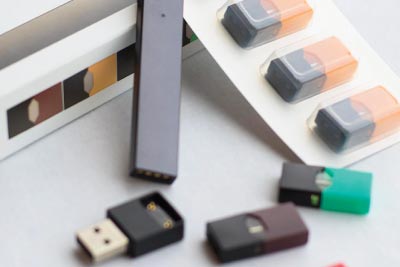 San Francisco based JUUL Labs continues to cause controversy for American Vapers and in-turn the vaping industry as a whole. Accused of marketing their brand and flavoured vaping products to teenagers, the west coast company, have become somewhat of a scapegoat for the underage vaping epidemic currently taking place in America.
Let's take a look at what's happening stateside.
What's Happened in the US?
JUUL Labs first came to prominence in 2015 when they introduced their sleek and small, vape-pod style vaporizer. Delivering a high dose of nicotine via a range of flavoured e-juice shots, JUUL's devices have been a big hit for vapers who are vaping to quit smoking and stay smoke-free. However, the popularity of JUUL's devices also happened to coincide with a huge spike in numbers for underage vapers in the US. Is this a sinister coincidence, or are JUUL the cause?
Fast forward to 2019 and in the summer, the city of San Francisco, where JUUL is based, made the unprecedented move to ban the sale of e-cigarettes. Making them the first city in the US to do so, San Francisco officials cited the need to assess further health risks linked to vaping. The ban on sales of e-cigarettes, which include online, will come into effect towards the end of January 2020.
With JUUL stood firmly in the centre of the crossfire, the vaping industry as a whole came sharply into focus again as a mysterious vaping-related lung illness swept across the country, hospitalizing over 1,000 patients and even causing fatalities. Suspected, to be linked to fruit flavoured e-liquids and illicit THC cartridges, the immediate response from the Trump Administration was to draft legislation that would ban the sale of various flavoured e-liquids. Though Trump has since backed down on the idea of an e-liquid flavour ban, individual states across the country have taken it upon themselves to implement temporary bans on most flavoured vaping products - particularly sweet and fruity flavoured e-liquids.
And the story doesn't stop there. School districts across the country are queuing up at the courthouse to sue JUUL for targeting students via advertising campaigns. In an attempt to appease the public protest and unrest, pertaining to underage vaping and potential health risks, JUUL has since pledged to restrict its advertising commitments by not placing adverts on any platforms that have at least 15% teen users, readers or viewers. Additionally, while JUUL strongly denies marketing their products to teens, they have also insisted that they will not use models under the age of 28 in any future marketing campaigns. To further reduce the flack that they've been recently facing, JUUL then controversially removed various flavours of their e-liquids from point of sale. This means popular flavours such as; mango, cucumber, cream and fruit flavours are no longer available to vapers in the US. While flavours such as Mango, Apple and Alpine Berry are still available to purchase in the UK, only time will tell whether the company will decide to remove those choices from the UK's vaping options.
The American Vaping Association (AVA) have been scathing in their condemnation of recent moves made by JUUL and AVA President Gregory Conley has released a statement pointing out several key factors that will affect the vaping community. Of course, JUUL is not the only company that produces flavoured vape cartridges, but the reality is that as consumers and customers we get somewhat attached to our favourite flavours and products don't we? Removing these products means that vapers will lose what they see as an essential tool that helps them to remain smoke-free. Experience is everything when it comes to vaping and the worry is that should vapers not feel so satisfied with the alternatives that lie in wait, then they could end up returning to the significantly more harmful option of smoking combustible cigarettes.
The controversy continues, when you know that Altira, the parent company of Philip Morris USA (Marlborough Cigarettes), owns a 35% stake in JUUL. Is there a heinous and horrible plot to keep tobacco companies in business?
Is a Flavour Ban the Answer?
Met with an angry response from the US vaping community, many feel that JUUL is turning their backs on vapers who vape their favourite flavours as a means of staying smoke-free. Just why are e liquid flavours being banned and is that the answer?
While parents may deem certain flavours to be appealing to their kids, the aforementioned outbreak of an unknown vaping-related lung illness that may have been linked to certain ingredients being unfit for consumption is a case that's worth paying some attention to. The authorities have found it difficult to pinpoint the cause for the illnesses, not least because it seems that there is no real commonality between what patients are reporting in terms of where they obtained the e juice and what it contained. While some note THC specific vape cartridges, others have mentioned regular nicotine-based vape juice and where some have bought on the black market illicitly, others have bought their products from license sellers. Where JUUL are getting the headlines for their supposed misdemeanours, should there be some pointing of fingers at how the e-cigarette industry is being regulated in the US?
Here in the UK, our vaping products are subjected to stringent regulations that form the Tobacco Products Directive (TPD). Before products can enter the market, products have to be tested and any banned ingredients will be identified and products re-buffed. Until 2016, vaping products in the US had been regulated by the Food and Drug Administration (FDA), at which point the responsibility was passed over to the Centre for Tobacco Products (CTP). The reality is that until 2016, the FDA didn't impose the same regulations as the UK and EU's TPD exerted. This means that various ingredients that have been banned in products sold in the UK, could have feasibly been included in products manufactured in the US. The CTP have now put in place more stringent regulations and requirements that manufacturers are expected to meet to continue selling their products, which must be met by a deadline of May 2020. But is it too little too late? Are there products currently being sold in the US that are simply unfit for their purpose?
Is There an Underage Vaping Epidemic Here in the UK?
It's interesting to note that the matter of underage vaping seems relatively confined to the shores of America. In the UK, research shows that underage vapingremains reasonably low. According to a survey conducted by Action on Smoking Health (ASH), found that more than 75% of 11-18 years olds had never tried vaping or were unaware of what vaping was. In 2019, the number of 11-18 years olds who did vape fell from 16% in 2018 to 15.4%. On this evidence alone, it suggests that fruit and sweet flavours are not a contributing factor for the underage vaping epidemic in the US.
Why E-Liquid Flavours are Vital to Giving Up Smoking
E-liquid flavours aren't just a sweet-tasting extra that manufacturers add to our e juice – for some vapers they are a necessary aid in helping them to successfully quit smoking and stay smoke-free. Why? Known by the few and the far between, is the fact that sugar is added to our cigarettes. You read that right. Sugar. Cigarettes have both naturally occurring and added sugars, which help to reduce the harshness of the smoke and easier to inhale. A notable characteristic of sugar, similar to nicotine, is that it is a highly addictive substance. This is why when smokers quit the cigarettes they'll often reach for the sweet treats, while potentially putting on a few pounds in the process.
With added sugar content in cigarettesto contend with, sweet and fruity flavoured e-liquids serve a fairly significant purpose to smokers who want to become smoke-free and avoid any unexpected weight gain in their endeavours to be leading a healthier lifestyle.
Sweet & Fruity E-Liquid Flavours
Best-Selling E-Liquid Flavours
When it comes to your favourite flavour, your choice will usually depend on your existing preferences. If you have a penchant for peach, then this may become your go-to. Because vaping is intended to replace smoking cigarettes, traditionally the most popular flavours for first-time vapers has been tobacco. Though in recent years, there has been a shift towards flavoured e-liquid, traditional cigarette flavours such as tobacco and menthol appear to be a firm favourite with Pure E Liquidcustomers.
The best selling e-liquid flavours from Vapour2's Platinum E-Liquid range are Red Tobacco, Menthol and Congress Tobacco. Why not try them out for yourselves?