Posted by Pure E-Liquids on 15th Feb 2021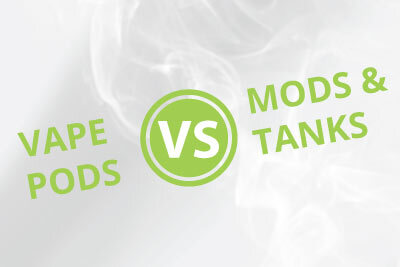 Each vaper is on their own journey of discovery. That might be an ex-smoker looking to reduce their nicotine intake, choosing vaping as the next step to quit. Alternatively, you might find an experienced vaper wanting a more compact device.
Whenever any vaper joins this growing community, the terminology can seem a bit much. Talk of coils, atomisers, PG and VG liquids can boggle the mind. And that's without mentioning the difference devices - often hearing Vape Mod and Pod in conversation.
So what are the two all about? How do they differ and which is best? Let's find out.


What is a Vape Mod Device?
As you may have guessed, 'mod' is short for modification. This kind of vaping device can vary in design and features, giving additional flexibility for more advanced vapers. A mod allows greater freedom and choice by altering the power or changing components like the wicks or coils. Alternatively, you can even adjust the temperature or wattage on some devices.
With mods, the device operates differently - due to the enhanced Sub-Ohm technology mods provide. It's up to you how the resistance and power increase when you swap components such as coils. The experience overall is enhanced because you can pick and choose the elements which suit you best.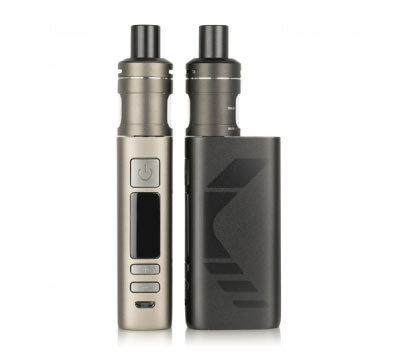 Understanding What Variable Wattage is and Why It's Useful
Variable wattage sounds complicated and not relevant but it's actually key to improving the vaping experience. Available with the majority of mods and even a few pods, it allows the user to change the wattage settings from as low as 1w, reaching as high as 240w. Altering this manually yourself, alongside temperature control, tweak the vapour production and overall quality to what you prefer, aiming to hit that 'sweet spot' vapers crave. Your e-liquid changes in flavour based on your wattage setting - whether higher or lower. Going too low in wattage potentially removes your chances of any flavour, so that's an important consideration before vaping.
What is Temperature Control and is it Important?
Avoid overheating your coils to prolong their life by setting the temperature control mode to the optimum level. Like variable wattage, you can play around with this to improve vapour production and maximise flavour. Bear in mind to always check your coil is compatible with the temperature control mode.
Finding a Compatible Mod For Your Tank
Three areas make the difference to your set up:
Picking the right type of coil strength, size and material help temperature control. Top tip - go for stainless steel which aids both variable wattage and temperature control.
Ensure you choose a mod with enough wattage power to improve the resistance of your preferred coil.
The tank diameter needs to mirror the size of your mod. If the mod is too small, it could lead to leaked e-liquids.
What is a Vape Pod Kit?
In contrast, a vape pod is different in every sense. You can forget about the chunky mod tanks, the reason some vapers prefer pods. Due to the common compact shape that's more narrow and long, in some ways a pod resembles a cigarette. This is ideal for ex-smokers just starting in the vaping world, but struggling to resist the urge of cigarettes.
Getting the right inhalation technique, level of nicotine and choosing the right device all matter when starting as a vaper. Familiarity is often the difference when making the switch. You can have pre-filled or refillable pod kits (open or closed system), which is a key selling point to some vapers. Each has its own benefits, which we cover in more depth below.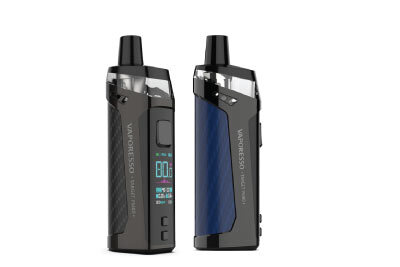 Choosing Pod or Mod Devices For Different Types of Vapers
Beginners: The obvious choice is pods for those joining the vaping community. It's easier to use and technically less complicated to manage. The pre-filled and disposable cartridges are perfect for vaping novices who plan on minimising fuss.
Cloud Chasers: While many, including ex-smokers, see the appeal of large plumes of vapour, it's often the more experienced vapers in the 'cloud chasing' category. This is because it takes a greater deal of experience to modify the parts of a device to maximise the potential for cloud chasing. Therefore finding the right 'mod' is the dream among cloud chasers.
Sub-Ohm Vapers: You can pick a mod or pod with Sub-Ohm vaping. Although they offer less control over power and temperature than a mod, pod users still prefer over vape pens or e-cigs.
Why a Pod is Ideal for Beginners

The cost of vaping may seem expensive when you add up buying the device, liquids, batteries and coils, but it's actually cheaper than smoking. For beginners, pods are the more affordable option. With 'Pod kits', you get all the essentials included in a purchased bundle to start your vaping experience. Pods are typically the preferred choice initially because fewer adjustments are required, compared to mods. Also, because of the pod's compact nature, slick design and weight, it just adds to the convenience. Providing it's safe, who wouldn't prefer to carry a pod around in a pocket instead of needing to invest in a bag?
However, once you get your head around all the necessary vaping technology, many enjoy tinkering with advanced mods. In the long run, mods work out as less expensive, plus you can provide stronger vapour production by altering settings like the temperature or wattage control.
Best Vape Pod to Get You Started
Ideally, you want a starter kit with everything in there you need to get the ball rolling. That should include the coils you prefer. The I.Q One is a great example because the kit features two different coil resistance strengths (0.6 and 0.8 Ohms). Also, it's a perfect beginner device because:
The Battery Charges Quick, Despite Long Life 1100 mAh Power
Excellent Coil Protection; Stopping Overheating, Short-Circuiting and Overcharging
Adjustable Airflow to Get the Right Mouth to Lung (MTL) Technique
Also, the stylish design with a leather finish looks like a portable mp3 player that's comfortable and portable wherever you go. Many people also prefer this kind of pod because the I.Q provides that stronger throat hit ex-smokers seek, plus flexibility to use with nic salts and freebase nicotine.
Our Bestselling Vape Mod is….
Tailored to those with more technical vaping experience in the UK, the SMOK Alien 220W Mod is a fantastic option. You can even personalise it to your preferred style, which is ideal for advanced vapers. However, before purchasing consider that there are lots of features on this device, so approach the SMOK Alien with caution as a new vaper. Because of all the fantastic extras, this is proven top seller for a reason:
Variable Wattage Mode
Puff Counter - Ideal For Ex-Smokers Reducing Nicotine Usage
Temperature Control Mode
OLED Screen
Portable Box With Huge Power (Dual 18650 Batteries)








Best of the Rest
Innokin iTaste Kroma-R (Left): An MTL device that packs a punch, the iTaste Kroma-R really stands out thanks to its grained finish in trendy colours such as copper or grey. This mod from Innokin offers a rapid 0.003 response time for quick releasing vapour production. Meanwhile, you also get an ergonomic textured grip and an advanced customer curve power and timer finish to switch up styles.
SMOK Rigel (Centre): The ideal portable vaping mod on the go, with a compact design, but powerful 230w capacity. It's great for advanced users passionate about Sub-Ohm technology, with the ability to tweak it with different meshed coils. Boasting an even faster fire up time of 0.001 seconds, you're in for a treat with the Rigel.
Geekvape Aegis X (Right): This waterproof and shock-resistant device offers something a little different from the other devices. What we like about the Aegis X is the large 2.4-inch screen - handy for those long-sighted. Plus, with this particular mod from Geekvape, it produces huge clouds. Play about with the temperature control thanks to the AS 2.0 chipset and see the great results.
Disadvantages of Vaping Pod
Less power because of device size.
Not possible to alter the temperature.
Requires charging more often due to smaller battery size.
Disadvantages of Vaping Mod
Can be more expensive.
Chunkier devices - more difficult to carry around.
Too technical for some vapers.
Does PG/VG Ratio Matter for Your Pod or Mod?
Of course, every consideration is important for the PG/VG ratio before taking the plunge with a pod or mod. If you want a stronger throat hit closer to smoking, a higher PG balance is important. It produces less thickness, smaller clouds and in turn enhances the flavour of your chosen e-liquid. To get this right, you can still use either a pod or a mod, with many former smokers choosing a suitable mod with enough power to get the same rhythm going as they did before.
On the other side of the coin, for higher strength Sub-Ohm vaping or those seeking bigger clouds, mods are the preferred choice. This is because they have more features, as discussed before. Therefore, your chosen mod with a bigger tank can be altered and fine-tuned to reach the required level of vapour production.
A pod would not reach this level as it's not powerful enough. With no temperature or wattage features to go up and down in strength, choices are limited. It's all about switching devices and trying something new until you find the perfect device. Below are some of our favourite selections of e-liquids that compliment a pod or mod, with red tobacco a favourite for a high PG preference.
The Importance of Coil Strength to Pod and Mod Kits
Each experience is different for vapers based on what device they use. What you get out of each production of vapour depends on the coil strength, the liquid you introduce to your device and the power of the item. For instance, with pod vape systems, the coil tends to be already added to the device.
Once the pod loses its flavour, providing it's not a refillable pod, you throw it out anyway, so a much cleaner and easier process. The coil strengths are often high with a high PG liquid ratio because that suits ex-smokers or beginner vapers seeking a stronger throat hit. It's also useful for discreet vapers not wanting to stand out with large clouds of vapour.
In contrast, people invest in mod devices to customise their experience. With powerful vaping systems like mods often equipped with tanks, you can add and replace coils to up or reduce the Sub-Ohm strength. Lots of mod users prefer to produce bigger clouds so the more changes you can make to the device, that creates a tailored experience for advanced vapers.
Verdict - Is Pod or Mod Better?
The outcome depends entirely on the vapers final wishes and desired results. A pod device is not typically suitable for somebody who likes to produce vast amounts of vapour because it doesn't have the strength. And even if it did it would be a lower amount than a mod, which can be adjusted.
Alternatively, a smoker looking to quit wouldn't go for a mod device, at least initially. This is because they are typically more technical with extra features. The only real suitable feature on a mod for a beginner switching from smoking is the puff counter. The high level of liquid typically needed in a Sub-Ohm mod would be too thick and not familiar with an ex-smoker too. Therefore, many believe pods are ideal for beginning your journey, gradually moving towards a mod. Neither is better or worse, it all comes down to personal preference.