The SMOK Alien is now discontinued.
People have also bought:
Innokin Coolfire Mini Zenith Kit
SMOK ALIEN 220W KIT with TFV8 Tank
KIT INCLUDES SMOK TFV8 BABY BEAST TANK.
The Smok Alien 220W Mod has dimensions of 89mm x 44mm x 28.4mm making it very compact and portable for a box mod that puts out a massive 220W. The UK Smok vape kit comes with the brilliant Baby Beast TFV8 tank and also allows you the freedom to personalise your own Smok Alien Kit by using your current favourite tank or selecting one from our suggestions.
The Alien is made from zinc alloy with carbon fibre inlays. Its design is unique with slanted gold or red lines encompassing the larger OLED screen, adjustment buttons and USB port. With 220W max output the Smok Alien provides two different modes: Watt mode for great cloud chasing and Temp mode for huge flavour.
Buyers Beware, there are a lot of Smok clones - if it's too cheap is it too good to be true?
For 2020 and 2021 the Alien has been phased out and has been upgraded to the new Smok Rigel vape mod. The Alien upgrade sees more power, more features in a more compact modern device.
SMOK ALIEN FEATURES
The Smok Alien screen features an easy-to-read menu and features 6 info-lines that show wattage, mode, dual battery indicator level for each cell, resistance, coil type, puff time and number of puffs. At the top of the Alien, there's a 510 connection and on the side, the oversized hidden fire button is beautifully integrated into the design. The shell is contoured for a very smooth to the touch feel and the Smok Alien is easy to operate using a well designed combination of USB port, OLED screen and function buttons.
This UK mod gets its 220W of power from dual external 18650 batteries installed behind a magnetic battery door. Don't forget to select the buy-option if you want your Smok Alien with UK batteries. To top-up the batteries, you can charge them externally or you can use the on-board charging setup by plugging the unit into any USB wall outlet. In addition to power mode, there are also several temperature control modes that support nickel, titanium and stainless steel coil heads. Our Smok Alien mod only UK kit (now with Baby Beast tank) option gives you flexibility and the choice to combine it with your favourite tank. All in stock.
Also checkout our range of Smok Alien Coils and Smok Alien Tanks
SMOK ALIEN KIT UK CONTENTS
1 X Smok Alien 220W Box Mod
1 X 2 ml TFV8 Baby Beast Tank
1 X Pre-installed V8 Baby-Q2 Core (0.4 Ohm Dual Coils)
1 X Baby-T8 Core (0.15 Ohm Octuple Coils)
1 X Replacement Glass Tube
1 X Spare Parts
1 X User Manual
SMOK ALIEN KIT SPECIFICATIONS
Length: 44mm
Width: 30mm
Output Wattage: 6W-220W
Standby Current: 300uA
Intelligent VW/TC Modes
Voltage Range: 0.35V-8V
Resistance Range: 0.1 ohm-3.0 ohm (VW)/0.06 ohm-3.0 ohm (TC)
Temperature Control Range: 200°F-600°F/100°C-315°C
Variable Wattage mode
Temperature Control mode
Zinc alloy build
OLED display
Micro USB charge port
510 threading
NEW 2019 SMOK ALIEN BABY BEAST TANK COMPLIANT UPGRADE NOW

INCLUDED
1 X 2 ml TFV8 Baby Beast Tank
1 X Pre-installed V8 Baby-Q2 Core (0.4 Ohm Dual Coils)
1 X Baby-T8 Core (0.15 Ohm Octuple Coils)
1 X Replacement Glass Tube
1 X Spare Parts
1 X User Manual
SMOK ALIEN TANK COMPATIBILITY
ASPIRE CLEITO TANK
The Aspire Cleito Tank features a new design whereby the chimney section of the tank has been removed completely and replaced with the coil itself. What this means is there is nothing between you and the coil as it were, and therefore flavour production is better than ever and the airflow is immense, truly wide open, with three cyclops style slots in the airflow ring at the base of the tank. At the Vape Expo 2016, the Cleito received best Tank award.
SMOK TFV12 PRINCE BEAST
The Smok TFV12 Prince Baby Tank is the recommended optimal replacement tank for your Alien. The baby of the super powerful cloud beast king, featuring 2 ml juice reservoir, precision airflow control, signature hinged top-fill system and introducing the new Baby Prince Mesh coils structure. Add this to your Alien mod only purchase and get the perfect partner.
ASPIRE CLEITO PRO TANK
The Cleito Pro is the latest version of the acclaimed UK Cleito tank which now comes with a 0.15 Ohm mesh coil option. Triple airflow and larger wicking holes means more vapour, more flavour from our most popular tank.
WANT MAXIMUM VAPOUR?
Our pure organic tested VSAVI VG e-liquid is specially formulated to be less viscous and therefore can be used with Box Mods. Pure 100% VG, no dilution, no compromise!
Note: This is a sub ohm device, generally use only 0.3 or 0.6 mg strength nicotine.
Your Alien & leak free vaping
Your device is manufactured with precision so will not leak providing you use the product and parts correctly. Where any leaks have occurred, we have solved almost all by taking the following steps.
When using the Smok Baby Beast tank for the first time ensure all the parts of your tank are tightened properly, this involves finger tightening then an extra 1/16th turn

Ensure the O-ring seals are correctly in place

Make sure the coil in the tank is finger tightening then an extra 1/16th turn

When cleaning or replacing the coil carry out the above procedures.

Ensure you have the correct temperature/power settings for your particular device. Coils for example have ratings and should be kept within maximum and minimum recommended settings. Too high and your device will pop and crackle which may cause spots of e liquid to escape via the air-intake.
Where product has been returned, we have found that TIGHTENING the PIECES properly resolves any leak issue.
ABOUT SMOK UK
Smok is a leading brand of electronic cigarettes which specialises in the manufacture and research of vape products. As a result of Smok's ability to innovate with new developments and patented products, the company is known as a sector leader in variable wattage and temperature controlled vape mods and e cigarette devices. Not only is the Smok Alien one of the best selling Vape mods world-wide it also features as probably the best vape mod in most independent Smok Alien Reviews. Smok was founded in 2010 and is based in Nanshan district Shenzen City, a major worldwide hub of the electronic cigarette supply chain. The introduction of the Smok Alien firmly puts Smok on the map as a major player in high spec. power-vape devices. The Smok Alien is the UK's leading high-spec vape mod.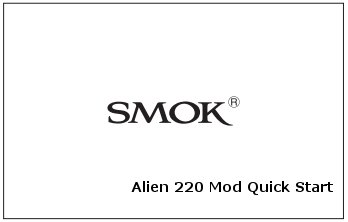 Favorite mod of all time and Great Company

I love the alien mod because its simple easy to use, small compact, fits nice in hand, in my opinion its the nicest looking mod love it, good fast shipping, and product was as described, thank you Pure-eliquids

Fantastic. Great flavour. Really tell the difference between this and a cheap mod. Would highly recommend getting this. Delivery very quick as well.

Really good device, great price

Love the Alien, easy to use & reliable. Pure Eliquids have good customer service and always help me.

OMG DON'T GET ANYTHING BUT THIS

So good! Only downside is it's a thirsty beast but it's 10/10

Great but not without issues

This kit is perfect for beginners like me, who has tried other starter kits but this one far the best yet. A great piece of kit, a smooth, tasty smoke and feels quality. The tank is too small at 2ml. It requires filling up regular, at least 4 times a day and probably the cause of the coils burning out very quickly. First coil lasted 4000+ puffs TFV8 Q2, 2nd only about >1000. The seal O ring gasket needs replacing already and just ordered a 7ml tank. My other issue is for the price I was expecting the batteries to be included, unit useless without them. But included them in the purchase just incase but the battery life is extremely good. Beware, there are no user instruction manual, so do your research first. Delivery and service was very quick and enjoying the experience. I think the product needs a slight modification to get the 5 stars but a great alternative to smoking.

Excellent buy , thoroughly enjoying my Smok Alien 220 w !

Mod and tank perfect for beginners would highly recommend, the only reason I put it to 4 stars instead of 5 is because the tank a bit small for me TEAM PEL says. Dale big thanks for the review. re: tank size :That's TPD for you!

nice product, completely satisfied

You are never going to lose it !!!

For it's sheer size & weight you are never going to lose it, I haven't had time to try all the various settings yet, I found quite quickly a setting that seemed to suit my needs and have stuck with it so far, I will try some other settings just to see what I might be missing, it is fabulously engineered and satisfies my quite fussy needs for satisfaction, might seem an expensive outlay but well worth it, get it right first time it saves in the long run, my batteries and a single filling last 2 to 3 days, sometimes even longer than that, depends how busy with work that I am, great value and performance, with possibly even greater performance once I bother to try other settings.