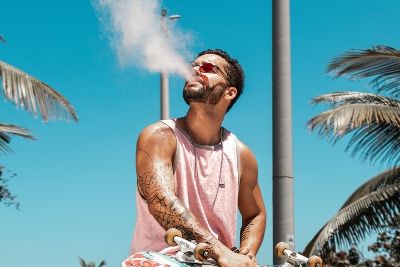 Are you looking for a new flavour of e-liquid? Do you fancy finding a flavourful e-juice to complement the summer sun? Just in time for the sunshine, we've got a whole host of fruity concoctions that'll not only entertain your tastebuds but provide you with the lasting flavour and satisfaction that you look for in a premium e-liquid.
Why Switching E-Liquid Flavours is Important
Whether your go-to e-liquid flavour is gold tobacco, menthol, or coffee; it's feasible that you feel pretty content with your favourite e-liquid flavour. So why change? Depending on how much you vape, your olfactory senses can become a little clogged up with the same flavours. Our olfactory sensors are located in our nasal cavity, which essentially determines our ability to smell and taste effectively. Able to sense sweet, sour, salty and bitter, overloading your sensors with one flavour of e-liquid may lead to a loss of taste and smell for an indefinite period of time. Known in the vaping community as 'vapers tongue', identifying a few flavours that appeal to your taste buds means that you'll be able to switch flavours regularly ensuring that you experience a great-tasting vape that leaves you feeling satisfied for longer.
Best E-Liquid Flavours for the Summer
With sunshine just around the corner, we thought we would take a quick look at six sensational e-liquids that we feel are essential for your summer vaping. Fruity, flavourful and created with a mixture of VG and PG acting as the carriers…which will you choose?
First up, just like sipping on your favourite cocktail poolside, indulge your senses with this sweet Sunset Mojito E-Liquid made by your beloved vape juice brand, Dinner Lady. What we like about this shortfill and all the others from Dinner Lady is it being a fantastic replacement for a summer-time sugar rush you may have. Plus, with a 70/30 VG/PG ratio, expect some sizable vape clouds packed with flavour. Nasty Juice Shortfills are another example of why many people opt for high VG juice in their vape. Priming your coils with this e-liquid is a great option for the best e-liquid flavours this summer - clouds for days as you stroll along the beach.
Second, we have the subtle taste of red cherries with this superb premium e-liquid from VSAVI. A smooth vape that has a higher ratio of Propylene Glycol (PG), if you're looking for a cherry flavour without any added extras, then look no further for a tangy but gentle throat bursting with flavour. Alternating between cherry, grape or cola will keep vaper's tongue at bay and keep the good times rolling this summer. The high ratio of PG ensures that you get a similar sensation to smoking, without damaging your health.
With a name synonymous with hot days spent in the sunshine, IVG's Summer Blaze is a fruit cocktail of sumptuous Sicilian Lemonade and Mixed Summer Fruits, this fruity number hits all the right sweet spots. As a shortfill e-liquid, simply add your desired strength of nicotine shot to the bottle and enjoy a satisfying hit of flavour and vapour.

For those who love nothing more than the sweet taste of ripe honey Mangos, try this e-liquid by Hangsen Classics, a must for anyone who loves a tropical taste to accompany their vape . You can even try strawberry or lemon and lime with this iconic brand. Because of the 50/50 VG/PG ratio, this e-liquid is beautifully balanced too for everyday vaping.
A refreshing vape that features the citrus tone's of lime and complemented perfectly with a hint of sweet cherry, if you're looking for a vape that bursts with the flavour of summer, then XEO's cherry/lime e-liquid stands out. With a VG/PG ratio of 15/85, you'll enjoy maximum flavour with a nice cloud size to suit.
Last on the list, whisk yourself away and get ready for a sweet vape, again with a shortfill packed with flavour courtesy of Dinner Lady's Watermelon Slices. Ideal for those with a sweet tooth, add the taste of sour fizz to the mix, and you've got yourself a certified classic sweet shop taste to vape with. Suitable for Sub-Ohm vaping, this 70/30 VG/PG ratio is ready to create the ultimate vape cloud.
Staying Smoke-Free
Vaping is an excellent way for smokers to quit smoking and should only be taken up by existing smokers seeking to be smoke-free. Providing a far less harmful alternative to traditional cigarettes, Public Health England's expert report cites vaping to be up to 95% less harmful than smoking. If you know someone who smokes, why not make a friendly suggestion and usher them in the direction of an E-Liquid Starter Kit. Fuss-free and easy to use, getting started is as simple as saying 'stop smoking'.