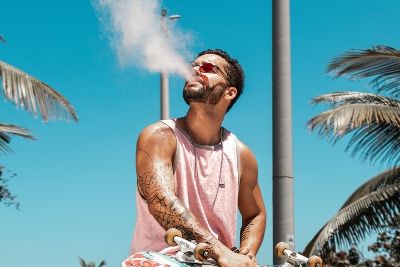 Best E-Liquid Flavours For The Summer
Are you looking for a new flavour of e-liquid? Do you hope to find a flavourful e-juice to complement the summer sun? We've got a whole host of fruity concoctions in this list that'll not only entertain your tastebuds but provide you with the lasting flavour and satisfaction that you look for in a premium e-liquid.

With sunshine now on our doorstep in the UK, we thought we would take a look at six sensational e-liquids that we feel are essential for your summer vaping. Fruity, flavourful and created with a mixture of VG and PG acting as the carriers… which will you choose?
1) Dinner Lady - Peach Mint Iced Tea
First up, just like sipping on your favourite cocktail poolside, indulge your senses with this sweet Peach Mint Iced Tea made by the beloved vape juice brand, Dinner Lady.

What we like about this shortfill and the variety of flavours they offer is that Dinner Lady provides a fantastic replacement for any summer-time sugar rush you may have - mixing a beautiful blend of refreshing flavours.

And to top it all off, the addition of the active ingredient koolada in Peach Mint hits the back of your throat with an icy vape that's as impactful as jumping in the pool to cool down. Plus, with a 70/30 VG/PG ratio, expect some sizable vape clouds packed with flavour.
2) Nyx Juicy Kiwi Passion Fruit Guava
Nyx has entered the market at the right time, replicating a popular range of disposable e-liquid flavours for the summer in 10ml format that is so close to the throw-away vapes so many adore. The idea is you get the same great pleasure but from a greater long-term sustainable option.

From Strawberry Banana to refreshing Green Apple, Nyx has 13 different flavours in total but one of the most delicious has to be kiwi passion fruit guava for those scintillating summer days, matching tropical weather with the same exotic fruity flavours.

At a 50VG/50PG balance, you can enjoy a mixture of smooth large clouds of vapour that still give that oomph at the back of the throat when you draw in the e-liquid.
5) Nyx Juicy Mango
For those who love nothing more than the sweet taste of ripe juicy mangos, try this e-liquid from the Nyx Juicy range - a must for anyone who loves the exotic fruit to accompany their vape. In addition to the fleshy yellow-red fruit, Nyx Juicy offers a dash of banana notes and a menthol kick to boost this scrumptious nic salt e-liquid. Because of the 50/50 VG/PG ratio, this e-liquid is beautifully balanced for everyday vaping.
6) IVG - Summer Blaze
Last on the list, with a name synonymous with hot days spent in the sunshine, IVG's Summer Blaze is a fruit cocktail of sumptuous Sicilian lemonade and mixed summer fruits. This sweet blend hits all the right sweet spots as a high VG shortfill e-liquid.

Fresh, zesty and packed with flavour, simply add your desired strength of nicotine shot to the bottle and enjoy a satisfying hit of vapour to match the delicious taste.
Why Switching E-Liquid Flavours Is Important
Whether your go-to e-liquid flavour is gold tobacco, menthol, or coffee; it's feasible that you feel pretty content with your favourite e-liquid flavour. So why change? Depending on how much you vape, your olfactory senses can become a little clogged up with the same flavours. Our olfactory sensors are located in our nasal cavity, which essentially determines our ability to smell and taste effectively.

Able to sense sweet, sour, salty and bitter, overloading your sensors with one flavour of e-liquid may lead to a loss of taste and smell for an indefinite time. Known in the vaping community as 'vapers tongue', identifying a few flavours that appeal to your taste buds means that you'll be able to switch flavours regularly ensuring that you experience a great-tasting vape that leaves you feeling satisfied for longer.
Staying Smoke-Free
Vaping is an excellent way for smokers to quit smoking and is considered by existing smokers only, seeking to be smoke-free. Providing a far less harmful alternative to traditional cigarettes, Public Health England's expert report cites vaping to be up to 95% less harmful than smoking. If you know someone who smokes, why not make a friendly suggestion and usher them in the direction of an e-liquid starter kit. Fuss-free and easy to use, getting started is as simple as saying 'stop smoking'.