Posted by Pure E-Liquids on 7th Aug 2019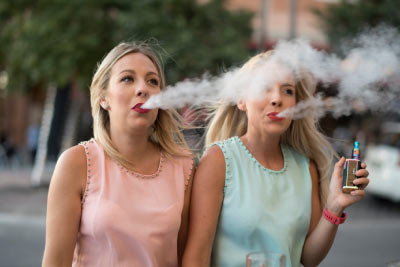 Are you getting ready to head off on your summer holidays? Depending on your destination, if you're a vaper, there are a few things that are good to know that will ensure you don't encounter any tricky situations this summer. Let's take a look at vaping on holiday, where in the world you shouldn't vape as well as some vaping etiquette to consider.
Where in the World Shouldn't You Vape
While we experience relative vaping freedom in the UK, the same cannot necessarily be said for countries elsewhere in the world. If you have planned a trip to any of the following countries, then we would suggest refraining from vaping to avoid any unwanted fines and potential jail time.
Countries where Vaping is Illegal: Argentina, Brazil, Brunei, Cambodia, Columbia, Egypt, Indonesia, Jordan, Lebanon, Malaysia, Mexico, Panama, Philippines, Qatar, Singapore, Taiwan, Thailand, Uruguay, Venezuela and Vietnam.
Countries with Restricted Vaping Laws: Australia, Canada, Hong Kong, India, Norway and Japan.
Vaping on Holiday
According to Public Health England (PHE), e-cigarettes are up to 95% less harmful than smoking cigarettes and that vaping even has the potential to help smokers become smoke-free. Nevertheless, for many non-vapers and smokers, vaping tends to be uttered in the same breath as smoking and generally treated as one of the same. While you and I may know that vaping is a far healthier alternative to smoking, the fact is that opinions around the world are far-ranging. As the momentum builds around the positives of vaping the future landscape of where you can and can't vape is more than likely to change, though in the meantime you should stick to the rules – both locally and abroad.
Tips for Vaping Abroad
Avoid vaping in public spaces such as shopping malls, restaurants and public transport.
Ask those around you if they mind you vaping. If they have questions about e-cigs, try and take the time to tell them about the positive effect that vaping can have on health when compared to the highly carcinogenic cigarettes.
Have you seen any vape shops where you are? If the sight of e-liquid on your travels seems rare, you'll more than likely be in an area where e-cigs may be frowned upon or yet to enter a regulated market. If you can, ask local people about their opinions on e-cigs, and as above, do what you can to educate and inform.
Found yourself in a bar outback where everybody is smoking inside? The good news is that this is probably the kind of location that you'll also be able to vape in. Ask the bartender or server, if they mind you vaping and once the nod of approval is given, enjoy your sweet tasting vape.
Can you take a Vape on a Plane 2019?
Thinking about vaping on a plane? Think again. While you may think that you might be able to get away with a discreet vape in the toilet, like cigarette smoke, the fine particles of vapour that you exhale will invariably end up with alarm bells blaring and the more than likely removal of your person from the plane. Although you can't vape on a plane, passengers are allowed to take electronic cigarettes in their carry-on bag. Just ensure it's stored away properly and that your e-liquids are stashed away in a clear bag and under 100ml.
Can you Vape at an Airport?
Different airports operate under different rules, which means that you'll need to ask the staff of the airport you find yourself at, whether there is a vaping lounge for you to occupy. As previously mentioned, because of the vague similarity that both vaping and smoking share, the reality is that the 'vaping' lounge will undoubtedly be in the same place as the smoking lounge.