Posted by Pure E-Liquids on 26th Mar 2020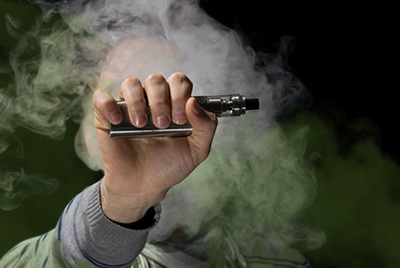 Public Health England has just published its sixth independent e-cigarette report, providing an update on the state of vaping in the country.
With the information provided by a team of researchers from King's College London, let's take a look at the key points and how e-cigs can play a pivotal role in the country's march to becoming a smoke-free society.
What's in the 2020 Report?
You may remember that PHE's first independent report cited e-cigarettes to be up to a staggering 95% less harmful than combustible tobacco cigarettes. In the same report, it was also suggested that vaping has the potential to help smokers quit smoking. Great news for smokers who had been looking for a suitable way to help them kick the habit, but what does the latest report say?
Through continued observations and research, the report provides evidence into the effects of e-cigarettes on our health, shows us who exactly is using vaping products, and gives advice on how we can use e-cigarettes to help more smokers quit. It also addresses the varied public opinion on vaping and the concern that current smokers aren't getting the correct information on the benefits of vaping.
Vaping Still a Safe Way to Quit Smoking
While research indicated that the number of vapers has remained relatively stable between 2014 and 2019 (ranging from 5% to 7% of the public), what has become a real concern is the number of smokers who believe that vaping is as dangerous; if not more dangerous as smoking. Through misinformation and the outbreak of a vaping-related lung disease in the US, the report by PHE attempts to allay the fears that some smokers may have about e-cigarettes.
Sweeping the e-cig industry by storm in 2019 was the outbreak of a mysterious lung injury that hospitalised thousands and in some unfortunate cases, sadly proved fatal. While this may have been understandably concerning for many of the vaping community, authorities in the US have since confirmed that the thickening agent vitamin E acetate caused the lung injuries.
However, this remains a banned substance in the UK - and should never have been a concern for the UK market.
The message from PHE is that vaping is still
a safe way to quit smoking.
But what impact has the intense media speculation and scrutiny had on the public perception of vaping?
How the UK Views Vaping
The number of smokers who have not tried any kind of e-cig product has remained at 37% since 2018, but perhaps more worrying is the number of smokers who thought vaping was less harmful than smoking. Despite evidence that shows that e-cigs will significantly reduce the harm that is caused by smoking, the proportion of smokers who believed vaping was less harmful than smoking actually declined from 45% in 2014 down to 34% in 2019.
A number that doesn't necessarily mirror the evidence that exists, data from stop smoking services in England suggests that vaping can prove to be a successful aid for smokers. The data shows that when a smoker uses an e-cigarette to help them quit - be it solely or in tandem with a nicotine replacement such as patches, gums or nasal sprays - the success rate is comparable, if not better than when a smoker only uses the aforementioned nicotine alternatives.
Chief Medical Officer for England Professor Chris Whitty said: "The best thing a smoker can do for their health is to stop smoking completely. Electronic cigarettes can help some people quit smoking and are a safer alternative."
Flavoured E-Cigarettes Vital for Some Vapers
While flavoured e-liquids have been the subject of controversial bans across the globe, any such move made in England may harm the ambition of vapers endeavouring to stay smoke-free.
Feedback indicates that any such ban may deter vapers from using vaping products, or lead them to sourcing illicit e-liquids that may prove detrimental to their health, as seen in the US last year as the vaping-related lung injury outbreak gripped the world.
Acting as a benchmark for where we are as we strive for a smoke-free society by 2030, it is clear that public perception and the opinion of vapers should be closely monitored in order to achieve such success. All we can say is, if this has sparked your interest in giving up smoking, why not give our range of flavoured e-liquids a try?
For more information about stop smoking services, vaping, or our range fo vape products that we stock, feel free to get in touch with our customer services team.