Posted by Pure E Liquids on 10th Mar 2015
Introducing the V2 Pro series 7
Here at Pure-Eliquids we are lucky enough to have received a pre-release of the V2 Pro series 7. Capable of vaporizing dry herb cleanly and simply. This top vaporizer should be available to purchase around mid to late July, and we will be the first to have it in stock. That aside what do we think of the V2 Pro series 7? Is it the best vaporizer?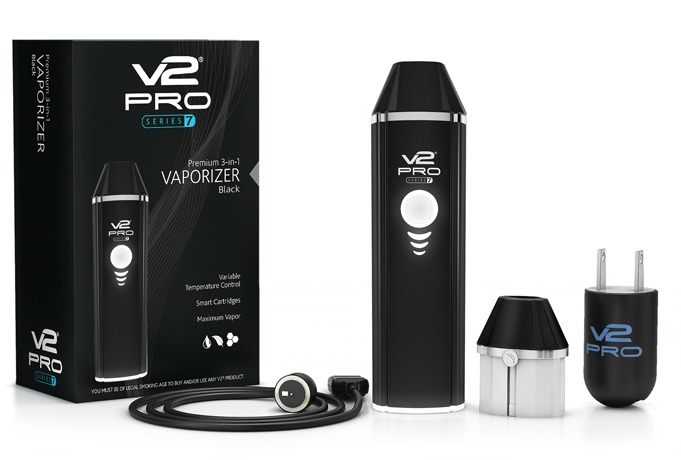 Well it's bigger than its predecessor for a start, not overly, but its noticeably bigger than the previous series 3. It is similar in size to other vaporizer in its class. The standard kit comes with just the E-Liquid cartridge as far as we are aware at the moment. There will be a loose leaf cartridge available to purchase upon release, and a wax cartridge to follow. The standard E-Liquid cartridge on the pro series 7 holds a massive 2.5 ml of E-Liquid and provides up to 1200 puffs – so you can leave your refill bottle at home. Each of these cartridges can be refilled up to 20 times, the battery capacity is also far greater.
First thoughts:
The build quality is exceptional, very solid and nicely designed, really intuitive. It has three power settings which are really easy to scroll through. For this test we are using Green Tea Menthol Platinum E-liquid and we firstly tried on the low setting. We were blown away by the quality and quantity of vapour and upon upping the power to maximum, it's on par with the best kits we have tried, however more on this later. We were also really impressed with how the V2 Pro Series 7 charges. It has a pass-through charger, which means you can charge while you vape! Usually I charge my Vaporizer frequently when using my laptop, but as I'm putting this through its paces, its lasted me over two days of heavy vaping and its still going strong.
Vapour Production
We tested this initially with Platinum Green Tea, extremely nice vape. Thick clouds of vapour, perfect taste, can't really fault it at all. Its the best vaporizer I have tried this year by far.
We also tested it with ECOpure pure VG E liquid – to really see how much vapour you can get from this, and the vapour production was amazing. Very similar to 0.3 Sub Ohm vaping but If you have any friends with Atlantis tanks running at 0.5 – this will likely get you far more vapour - and without having to clean and/or replace bits and bobs ie. its not a drip tip and requires no real maintenance. All the cartridges you just fill up and 'snap' in, as they are magnetic, they don't leak either, they have a leak proof design which makes the V2 Series 7 Pro a really durable device. The V2 Pro 7 is great for cloud chasers who want a simple device - then it also is capable of vaporizing other materials such as dry herb and tobacco in addition to your e-liquid.
Build Quality
The build quality is exceptional and very sturdy. Both tank and body are very well engineered. Been vaping it for 1 week – no problems and I can see this lasting me a long time
Loose Leaf vaping
The V2 Pro Series 7 is amazing with the V2 Pro Series 7 loose leaf cartridge and has one of the fastest heat up times we have come across. It heats up dry leaf to the optimal temperature in around 20 seconds. It uses convection to create a satisfying throat hit and vape. The Series 7 automatically detects that is is a loose leaf cartridge and selects the right settings automatically, however on this model you can actually quickly change this to a lower or a higher setting, personally we prefer the higher setting to get the more vapour. Just a note - when vaporizing dry herb or loose leaf tobacco don't expect the vapour to be at the level experienced with vaping e-liquids - vaporization of dry herb is very efficient at releasing the active ingredient which is not smoke or vapour!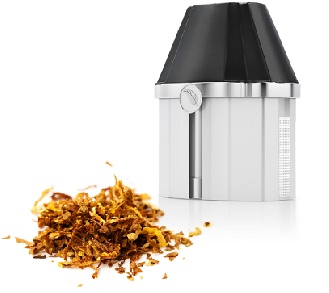 Battery life
The V2 Pro Series 7 comes with a massive 1800 mAh battery – and I think its important to note I have several 2200 mAh batteries, but this so far has outlasted them all, although I cant quite say why that is. The Series 7 has 3 settings (3.7V, 4.2V, 4.7V) – I generally use the 4.2 for normal vaping but, I have been using the higher setting for most of this trial period and it's lasted way beyond what I was expecting.
Vapour Production
This is where the V2 Pro Series 7 really scores highly. I filled it with ECOpure liquid which is pure VG e-Liquid to compare it to other devices I have used. The vapour production is amazing, easily on par with many devices I have encountered, actually I would say better than all I have used which are not drip tips.
Final thoughts - Best Vaporizer UK
V2 really have pushed the boundaries when it comes to the best e-Cig technology, the Pro Series 3 was testament to this, combining a neat high end device with the ability to vaporize loose leaf, e liquids and wax. The V2 Pro Series do not use combustion like many other brands of so called "vaporizers" and users need to double check their device to ensure that it actually vaporizes rather than uses combustion. There is no doubt that V2 have taken their success and built upon it with the V2 Series 7 Pro Vapourizer – and we love it and review sites love it!