Posted by Pure E-Liquids on 3rd Mar 2021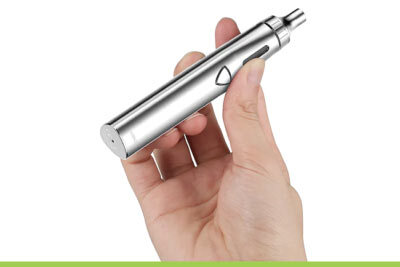 The British government has big plans for the next decade to help create a smoke-free population by 2030. Ambitious, but certainly not impossible, where vaping is concerned. As a cessation tool, vaping is a great way to stop smoking by gradually reducing your nicotine intake.
As we know, nicotine forms the habit but tobacco and tar is the reason for cigarette-related illness and death. Instead, you can tackle that addiction head on, switching to an electric-powered device and take back control. One key aspect that could help kick on vaping to the next level and stop a smoking relapse involves finding a device vapers feel comfortable with. A great example of that is the XEO VOID vaporizer. Built with minimalism and efficiency in mind, we evaluate all of its benefits to vapers, what e-liquids and coils work with this device and much more.
XEO VOID - the Multi-Functional Device
Whatever your reason for vaping and however far along on the journey you are, the VOID could be the answer. This is because it's such a versatile device that's more than capable of meeting the task for beginners and Sub-Ohm vapers alike. When you first start with vaping, it may seem daunting. It looks so technical in comparison with smoking and rightly so. Talk of coil resistance, variable wattage or temperature control will seem worlds away from cigarette smoking. Rest assured that not all devices are this technically advanced, although advanced vapers do enjoy tinkering with vape mods to find the perfect performance.
The VOID ticks all the boxes because of its capabilities. It's got just enough power to create large clouds if you plan to vape using a Sub-Ohm coil. Alternatively, you can pick a higher resistance and vape more discreetly. A stylish design meets flexibility with the VOID, allowing the user to adjust when needed to optimise their cloud production and flavour. What more could you want from a transitional device? Whether you're making the switch from smoking to vaping or looking to step up from a beginner vape pen to a Sub-Ohm option, it's more than up to the task. For an affordable price, you could even get two devices and alternate between charges, which is particularly handy for heavy smokers.
Key Features and Specifications
All people hoping to quit smoking for good by switching to vaping want simplicity and efficiency, at least to begin with. The ease to set up and use your starter kit - typically a vape pod (prefilled or refillable) and not a modified 'vape mod' - is key. Filling your vaporiser with e-liquid should be a breeze and there shouldn't be too much complication when switching on and firing up the vape. This is where the VOID comes in handy. With one simple fire button, 100% leak-proof technology and childproof protection, it offers the security and user-friendly design to vape away without any fuss.
It also has a standard EU 2ml capacity for your e-liquids, which can either be XEO's own branded e-liquids of three different nicotine strengths and ten different flavours or picking a different brand of e-liquid. You can also switch between two atomiser heads for your device - either the 1.0 Ohm which is perfect for a decent throat hit with Mouth to Lung (MTL) vaping or the 0.6 Sub-Ohm. The latter is equally impressive for large clouds in Direct to Lung (DTL) mode, especially with high VG e-liquids. The ability to switch is useful for those wanting to flip between vaping styles or use the VOID as a transitional device from beginner to intermediate. Plus, with a 1500mAh battery as well, it will last even a heavy smoker a long time (roughly a day). That's beneficial if you're a chain vaper.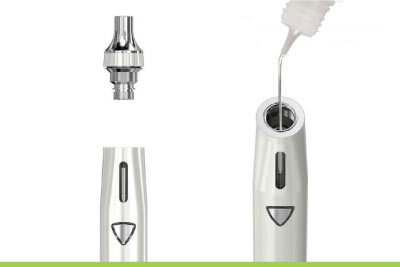 VOID Design and Practicality
Unlike some vaping devices on the market, the VOID is built to last with a strong ergonomic design that's practical and aesthetically pleasing. Standing at approximately 12cm, it bears a similar resemblance in size to a cigarette. Because of the design and ergonomics, several customers have already noted how the VOID lays flat on a table and does not roll away like some devices. Other key design and practical features include:
Availability in six different colours, including gunmetal and pink
Can be charged while standing up straight
Adjustable airflow ring under mouthpiece for an optimised vaping experience
The fire button and tank light up after release for three seconds to highlight the e-liquid level
Simple design means easy to hold, use and store away
Several protection features include a useful childproof function
Spiral mouthpiece design ensures unlikeliness of getting e-liquid in the mouth
How to Use the Device
Top up with e-liquid by unscrewing the mouthpiece and coil together from the top of the vaporiser. You do this by applying a small amount of pressure to the mouthpiece, pushing down and screwing clockwise in a similar fashion to child protection on medicine bottle caps.
Then unscrew the coil from the bottom of the mouthpiece.
Next, add your chosen e-liquid to the max fill line displayed on the side of the VOID. Do not exceed this or you run the risk of gurgling and spitting.
Screw both parts back on and click the vape pen five times to turn it on.
Charge the device like in the image below using the USB cable.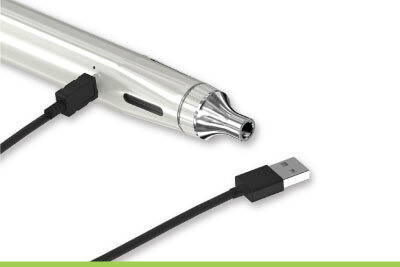 Sub-Ohm or Higher Resistance Coils - Which is Better?
For a beginner, there is no doubt that vaping MTL vaping is the best technique initially. It's closer to smoking cigarettes in terms of inhalation. The coil resistance is higher as well, meaning the coils will heat at a lower temperature. When you combine this with 1.0 Ohm or higher and PG-high e-liquids, you'll have a thinner consistency which is also preferred for former smokers. The VOID at 1.0 Ohms will produce less cloud vapour and a stronger throat hit for a less intense MTL vaping experience.
In contrast, a more advanced vaper looking to experiment or simply have a trusted secondary device would appreciate the Sub-Ohm capabilities of the VOID as well. It hits just the right spot with high VG e-liquids for voluminous clouds if you're looking to show off your vaping skills. Not only that but the flavours will be sweeter because of the natural flavours bursting from Vegetable Glycerine. The lower resistance coil heats the e-liquid at a higher temperature for optimal performance, which cloud chasers will love. Bear in mind with high VG you will go through your battery faster because it will need a higher wattage, in addition to using more e-liquid at an equally quick rate.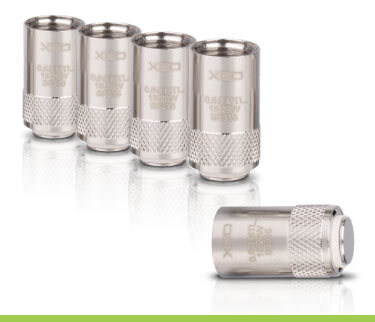 Any Disadvantages?
The device mouthpiece is occasionally prone to overheat, but the problem is solved by alternating with multiple VOID's, allowing 2-3 minutes between vaping or keeping another backup/primary device available
Childproof lock requires a few twists to loosen enough for removal and refilling. Better safe than sorry!
Verdict
In terms of buying a device that fits all purposes, the XEO VOID delivers. If you're a beginner, ideally what you seek is a simple device that is comfortable after smoking for so long. Removing that nicotine addiction is challenging but the VOID provides a solution with multiple strengths and enough versatility to optimise how you like, while not proving too complicated to do so.
However, like all vapers, curiosity increases as time goes on. Suddenly you want to try something new by upgrading once you understand the industry. A vape pen is ideal initially, but the VOID with Sub-Ohm performance too because of the 0.6Ohm coil option will take how you vape to the next level. With larger clouds at a lower resistance, it demonstrates how a compact jack-of-all-trades vaporiser can work wonders for all vapers.