Posted by Pure E-Liquids on 27th Mar 2019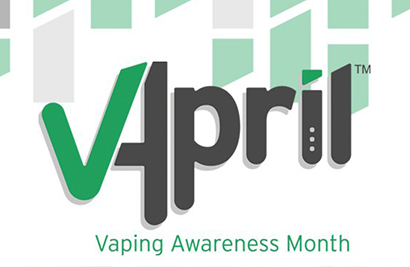 If you know someone who smokes or you're one of the estimated 7 million people who smoke in the UK, then now might be the ideal time to think about accepting the VApril Challenge.
Taking place throughout the month of April, VApril is the world's largest vaping awareness campaign encouraging one and all to give vaping a chance as a way to become smoke-free.
Stop smoking and start vaping this VApril
Did you know that Public Health England (PHE) says that e-cigarettes are up to 95% less harmful than smoking tobacco? Moreover, vaping has the potential to help smokers quit the cigs, become smoke-free and live altogether healthier lives - could there be a more important reason?
While the potential health benefits that e cigs have for smokers overwhelmingly overrides traditional tobacco cigarettes, research shows that 40% of smokers haven't even tried e-cigarettes before. Worryingly, of those 7 million smokers, almost half (44%) believe that vaping is as harmful as smoking.
According to PHE, vaping helps an estimated 20,000 smokers become smoke-free every year, while industry experts claim the figure to be greater. The success that vaping has afforded to smokers quitting means that the UK's total population of vapers is estimated to be over 3 million.
Stay smoke-free and find your favourite e-liquid
There will be a few things you need to get started with vaping but by all means, it doesn't have to cost you an arm and a leg. There are of course high-powered devices with multiple functionalities, but we really don't need to go there just yet.
A simple starter kit like VSAVI's E-Liquid Starter Pack containing a rechargeable battery, charger, blank refill tank and e-liquid are all the components you require to get cracking with your vaping adventure.
Ultimately, it will be the latter item, e-liquid, that will play a pivotal role in keeping you smoke-free. It might sound obvious, but enjoying the taste, flavour and overall experience of vaping will be the best way to stay clear of the cigarettes – along with some good-old-fashioned willpower, of course. If you buy an e-liquid that simply doesn't get on with your taste-buds, it's likely that your vaping experience will be tainted leaving you reluctant to try it again.
E-liquid is produced in a multitude of flavours, which can be a costly exercise if you try buying different flavours individually. In the first instance, we would always recommend getting a flavour sampler kit, like VSAVI Platinum Premium E-Liquid Sample Pack. Be introduced to 6 different sweet and fruity flavours (Cherry, Vanilla, Coffee, Chocolate, Grape, Cola) or stick to the traditional cigarette flavours of tobacco and menthol – the choice is yours. Once you've discovered your favourite flavour, you'll then be able to bulk buy your e-liquid at a fraction of the cost compared to purchasing individual bottles of e juice on an ongoing basis.
Why is quality e-liquid important?
In your search for your e-liquid, you may be tempted to reach for the easiest, cheapest and most convenient option. Perhaps your local shop sells e juice or maybe you've seen them in the petrol station. We would wholeheartedly recommend that you do your homework on the best e-liquids available before you buy. As we've mentioned, enjoying the experience of vaping is the best way to stay smoke-free and a quality e-liquid will help you achieve this.
Buying cheap e-liquid may have the suspected consequences, depending on their cost. Something cheap may well leave you with a nasty aftertaste which will only discourage your perseverance to stay smoke-free.
A quality e-liquid, that may only cost slightly more than the cheaper version, will undoubtedly be using a higher-grade of ingredients to purposefully provide you with the best vaping experience possible, full of flavour and satisfaction.
If you're feeling ready to take up the VApril Challenge, then the dedicated website to all things VApril has some great tools to help you get started, as well as a plan of action to help you throughout the month. Sign up and start vaping today!