Posted by Pure E-liquids on 23rd Jul 2020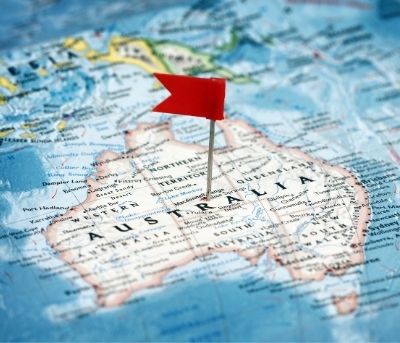 It's safe to say that understanding Australia's vaping ban can be somewhat of a tricky task at times. While various vaping laws may differ from state to state, let's take a look at the latest twist of fate that faces Australia's vaping community.
Will Vaping Be Banned in Australia?
In 2014 Australia made it illegal to buy any e-liquid or e-cigarettes that contain nicotine. The country's domestic ban on the sale of e-cigarettes and e-liquids containing nicotine may have been in effect for some time; however, the reality is that individual states and territories still have the powers to allow vaping to take place in some shape or form.
In Australia, nicotine is classified as a dangerous poison under the National Poisons Standard. But if the e-cigarette in question is used as a therapeutic product aimed at helping smokers quit smoking, then those products have to be registered by the Therapeutic Goods Administration (TGA). Vapers then require a prescription issued by a doctor in order to get their hands on nicotine-based e-liquid.
Currently, Queensland is the only state where vaping nicotine-based vaping products is wholly outlawed, however in the remaining states, the possession of e-cigarettes containing nicotine remains legal. While it is illegal to buy nicotine-based vapes in shops, vapers have been able to import nicotine-based vapes from abroad. Provided that they have the prescription as mentioned earlier from their doctor and adhere to a few conditions, those looking to quit smoking by vaping are able to do so in some capacity. Failure for not having a prescription and importing vaping products that fall outside of the guidelines that the Therapeutic Goods Administration (TGA) requires, means that Aussies can expect to have their vaping equipment confiscated as well as the risk of possible fines.
However, in June this year, the Australian Government announced that it would be banning the import of nicotine-based e-liquids with almost immediate effect. Due to start from July 1st 2020, the ban on e-liquid imports has been met with notable protest from the vaping community. The inevitable backlash from vapers and health experts who believe vaping to be a viable smoking cessation tool then saw petition started by Australian Senator Matthew Canavan and MP George Christensen, backed by 28 MPs and forcing the Government into a government u-turn and a re-think.
The date for Australia's vaping ban on imported nicotine-based e-liquids has now been put back to January 1st 2021 which means vapers now have a finite window in order to either completely quit nicotine or face the consequences. Meanwhile, Health Minister Greg Hunt suggested people would still be able to bring e-liquids into the country should they have a prescription.
What Are the New Rules Exactly?
The new laws effectively mean that vaping nicotine-based e-liquids as a way to smoke-free will be limited to the few and far between. According to the new rules, vapers may still be able to get their hands on nicotine-based vape products with a prescription from their doctor, however, the rather tedious caveat, is that the doctor will have to be willing to import products for them. In order to do this, doctors will need to have a permit to import nicotine.
Based on current evidence, the idea of doctors ordering your vape essentials is far from a reality. As opposed to countries like England, where health professionals are known to recommend vaping as a way to stop smoking, Australian doctors are a little less forthcoming with their support. Alas, in the whole of Australia, there are only nine known doctors who will prescribe e-cigarettes as a way to stop smoking. Therefore, vapers who might expect to go to their doctors, and receive a prescription of e-liquid may be left in the waiting room for some time.
Should vapers decide to defy the law and continue to import vaping goods, a hefty $220,000 fine lies in wait for getting caught. Ouch.
How Will Australia's Vaping Ban Effect Vapers?
There are an estimated 227,000 vapers in Australia who have up until now been able to use vaping as a way to quit smoking, albeit via imported e-liquids. But what future do these vapers face when an outright ban on their favoured smoking cessation aids kicks in. Adding a time-frame to quit vaping only adds to the pressure that quitting smoking evokes, therefore telling vapers to 'get ready' is hardly what any ex-smoker wants to hear.
The immediate worry is that these vapers will return to smoking cigarettes. Posing far more of a risk to human health than vaping, while nicotine may be classed as a dangerous poison by the Australian authorities, the sale and consumption of cigarettes and combustible tobacco products remains a mainstay in the consumer market.
Some vapers who have yet to succeed in becoming nicotine-free, as well as smoke-free, may decide to choose the 'cold turkey' route. This is a notoriously tricky task that can be an uncomfortable experience, to say the least. Headaches, irritability and trouble sleeping may make even the most strong-willed succumb to the cravings of cigarettes to get a hit of nicotine and feel some relief.
There may also be the faction of vapers who dare to bypass the law and choose to get their vape equipment on the black market. Highly dangerous and possibly posing a higher risk than cigarettes, the black market is inundated with unregulated counterfeit products that are likely to contain ingredients not fit for human consumption. With mislabelled packaging and a question mark over potential ingredients, vapers who decide to choose this route could find themselves exposing themselves to some seriously harmful materials by way of trying to stay smoke-free. Remember, it was only a few months ago that America made amendments to their vaping laws by making flavoured vapes illegal due to illicit vapes being sold on the black market that caused the widespread hospitalisation of vapers across the country.
What Are the Reasons for Australia's Vaping Ban?
Australia's vaping ban is being extended to imported e-liquid for two main reasons. The first relates to a recent increase in nicotine poisoning linked to e-cigarettes. Among the many reported cases, the tragic case of a toddler's death taking place in Victoria, 2018, was caused by ingesting a high strength nicotine e-liquid. Sharing similarities with America's vaping related lung injuries that hospitalised thousands; in the case of the toddler's death, the e-liquid was purchased from overseas. Would a regulated and stringent e-cigarette industry in Australia remove the need to import potentially dangerous illegitimate products and cause such incidents? Time will tell.
The second reason the Government give for the ban is to reduce the number of underage vapers in the country. Indeed the number of young vapers is rising in Australia; however, the number of underage smokers is steadily declining. By removing nicotine-based vapes, will kids return to cigarettes? An answer that is likely to be unknown until a few years, the reality is that flavoured nicotine-free vapes are still available to purchase and may always lead to those underage to still vape.
The world can be a confusing place sometimes, and Australia's vaping ban is just one example. With rationale aimed at reducing the number of underage vapers, yet still allowing vaping e-liquids that don't contain nicotine certainly seems like a strange decision. With the lack of long term health implications able to be evidenced, allowing the potential for kids to vape flavoured e-liquid appears to contradict the Australian Government's decision in almost the same breath.
E-Cigarettes 95% Less Harmful Than Smoking
Public Health England's (PHE) scientific evidence tells us that vaping can be up to an incredible 95% less harmful than smoking cigarettes and that vaping has the potential to help smokers become smoke-free at the same time. This evidence is supported by a study that found e-cigarettes to be up to twice as effective as smoking cessation tools such as patches and gums in helping smokers ditch the cigarettes.
With Australia's vapers effectively granted a stay of execution of six months by Health Minister Greg Hunt, time will tell whether a regulated solution to suit all parties might be found. In the mean times, vapers and smokers based down under will have six months to prepare and consult their GP s to find the most effective way to quit smoking.
If you're a UK based smoker then perhaps now is the time to ditch cigarettes and switch to vaping? Affordable, accessible and easy to use, why not try out V2 Cigs ultimate Vape Starter Kit? With a range of 14 flavoured e-liquids to choose from, as well as a range of three nicotine concentrations to match to your existing habit, your smoke-free future may be more achievable than you think.
If you're a UK based vaper thinking about travelling to Australia any time soon, be mindful of where you can and can't vape. While you might feel reluctant to do so, be prepared to leave your e-cigarettes at home to avoid your favourite vape pen being confiscated at customs.