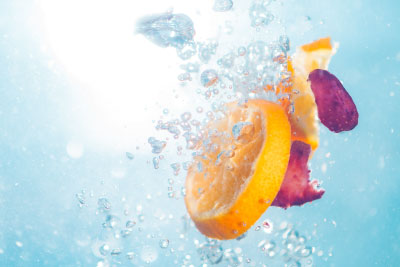 Want to quit smoking but still sitting on the proverbial fence wondering if vaping will help you become smoke-free? E-cigarettes and more specifically e-liquids have transformed the lives of millions of ex-smokers.
Why E-liquid is Important
As you may know, there are essentially two items that you need to start vaping – a rechargeable vaporizer and the all-important e-liquid that provides you with a nicotine alternative to your cigarettes. While a well-reviewed and quality vaporizer should be high on the agenda, it's the e-liquid that you vape that you should pay particular attention to. Crucially, the taste and flavour you experience from e-liquid will play a significant role in helping you to remain smoke-free.
E-liquid is typically made with; Propylene Glycol (PG) and/or Vegetable Glycerine (VG), nicotine, and a range of either sweet, fruit, bitter, menthol or tobacco flavourings.
Why sweet flavours? Did you know that cigarettes contain up to a teaspoon of sugar per cigarette? As well as endeavouring to free you from cigarette smoke, flavoured e-liquid also provides you with the sweet hit that you will inevitably crave when you stop smoking.
Depending on the ingredients that manufacturers use to flavour their e juice, choosing a cheap e-liquid may literally leave you with a bad taste in your mouth. Rather than being put off the idea of vaping before you've got going, it's important to opt for a premium e-liquid made with quality ingredients.
Can you vape any e-liquid?
Vaping should be an enjoyable experience that provides you with a satisfied substitute for the cigarette smoke you have become accustomed to which is why it's so important to find flavoured e-liquids that you enjoy.
In the first instance, an affordable way to discover what kind of flavours you might like is to pick up Vapour2 flavour sample pack. From cherry and cola to menthol and tobacco – you'll soon find out what works for you and where to invest your time and money in your future.
Buy Sweet and Fruity E-Liquid 6 x 10ml Packs
There are a variety of different e-liquids available to you that will also vary in the amount of PG and VG. Depending on the balance of PG and VG in your e-liquid, things like flavour, taste, throat-hit and vapour production will vary as you vape. There's no right or wrong answer to which e-liquid is the best – more a case of your personal preferences. Let's take a look at a few different forms of e-liquid and what might be right for you.
Vapour2 Platinum Premium E-Liquid
Regarded as some of the best e-liquid available, Vapour2's Platinum Premium E-Liquid is available in 15 tasty flavours that use the best ingredients together with an optimised blend of PG and VG to provide you with a clean and flavourful vape.
VSAVI 100% VG E-Liquid
Providing a more natural and organic vape, VSAVI's 100% VG e-liquid is free from PG and available in a range of 18 flavours. The 100% VG content means that this e liquid provides an enhanced flavour and will produce thick vapour clouds.
Short Fill E-Liquids and Nic Shots
Experiment and play with a range of flavours to find a taste tailored to your taste buds with Short Fill E-Liquids and top up with a separate nicotine shot to give your e-liquid nicotine strength suited to your needs.
Nic Salts
An alternative to conventional e-liquid, VSAVI's flavoured Premium Nicotine Salts use naturally occurring nicotine found in the tobacco plant to provide you with maximum flavour and a nicotine hit similar to smoking.
Vaping is 95% less harmful than smoking
Did you know that as well as helping you to quit, Public Health England says that vaping is up to 95% less harmful than smoking? Additionally, you'll be able to slowly reduce your nicotine levels as you see fit, which means the end goal is you to become both smoke and nicotine-free. Win. Win.
Deciding to quit smoking doesn't have to be the predisposed dread-filled experience that so many have known before. Thanks to e-cigs and vaping, you'll now be able to significantly reduce the harm that cigarette smoke has on your body and ultimately lead a healthier lifestyle.
According to the NHS, vaping helps contribute to an estimated 20,000 smokers become smoke-free every year. Though industry experts would be inclined to suggest this figure is actually much higher. Why not join the UK's population of an estimated 3 million vapers who are using e-cigarettes and e-liquid to successfully quit smoking today.