Posted by Pure E-Liquids on 9th Apr 2019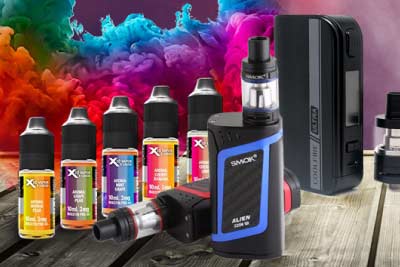 VSAVI
VSAVI is a world leader in manufacturing quality e-liquids. Specialising in a 100% VG e-liquid flavours, the extensive range is suitable for vapers who are sensitive to PG, or those who just want ultimate vapour and cloud production. The unique formula also ensures that you get great flavour production when vaping, something typically associated with PG.
Available in a multitude of different flavours including:
100% VG E-Liquid Classic Range:
Pure Virginia
M Tobacco
Arctic Menthol
Apple
Cherry
Elder
Strawberry Cream
Coffee Cream
Vanilla
100% VG E-Liquid Gourmet Range:
Apricot
Coconut Delight
Raspberry
Toffee Caramel Choco
Coffee Cream Choco
Tutti Frutti
Watermelon
Short Fill Range:
Banana Pudding
Blackberry Yoghurt
Grannys Strudel
Juicy
Strawberry Milkshake
Tropical Island
If you're not sure which flavour is right for you, be sure to take a look at the sampler option offering 3 x 10ml e-liquid, allowing you to try the range and find your favourite.
All VSAVI liquids conform to the latest UK and EU standards, ensuring that you only receive the highest quality liquids for your vaping pleasure.

SMOK
Over 80,000,000 people worldwide are enjoying the exceptional experience of SMOK products, making them a world leading international e-cigarette brand. The balance of research & development, passion for quality, cutting edge technology and creating the ultimate vaping experience for users, you can be confident that you'll be using a great device.
Founded in 2010, SMOK has propelled to one of the most recognised vaping brands in just 7 years. Whether you are looking for the ultimate mod, or reliable starter kit, a range of high-quality devices are available. A unique experience with SMOK devices is the 'Vaping Tour' app. A self-proclaimed smart vapourizer assistant, it also provides a space to share your vaping experience with users all over the world.
At Pure E-Liquids we stock a range of devices and accessories from the SMOK range including mods, sticks, coils and tanks.

Innokin
Launching in 2011, Innokin has fast become one of the most recognisable e-cigarette and vaping brands around the world. Focusing on technical innovation, leading designs and high quality, their devices are renowned for reliability.
Innokin have a wide range of devices which cater for the most advanced users and people new to vaping. These ranges include devices under the iTaste, iClear, CoolFire and iSub brands. Focusing on ease of use regardless of the device, Innokin pride themselves on how approachable the devices are allowing users to change settings, or simply just add e-liquid and go.
With their own factory in China, quality is assured from the offset, users also get access to the after sales service. All Innokin devices come with a serial number for authenticity checks so you can be assured that your device meets the stringent standards Innokin have set for the brand.
For advanced users we stock a range of Innokin mod kits including the Proton and Proton Plex. For less advanced users we also have devices designed to suit including the Jem, or Cool Fire. For users looking for the easiest experience or a simple fill and go device, we have the EQ and DV pod kits. Alongside devices, we also stock a wide range of tanks, coils and refillable pods.

XEO
German precision engineering meets vaping with XEO, providing consistently stylish devices known for the quality you expect from vaping. Designed and manufactured in Germany, a core USP for XEO is working regularly with expert institutions and independent engineers from initial device concepts right through to creation.
XEO take device recycling very seriously to minimise environmental impact from technological waste. Because of this, they encourage users to send devices back to them to ensure that once they reach the end of their life cycle, they are disposed of in the correct way.
Focusing on quality and not quantity, XEO manufactures two devices, the VOID and the XTREME, both devices suitable for all levels of users. Both provide a high level of flavour and vapour production and no-leak protection.
We stock both devices, plus atomizer heads and additional clearomizers. We also stock a wide choice of e-liquids from the XEO range.

Kangertech
Kangertech, a world leading e-cigarette and vaping brand have maintained the goal to "exceed vapers' expectations around the world" since emerging onto the vaping market over 10 years ago. The desire to provide the ultimate vaping experience has led to some very innovative and forward-thinking products, including the Subtank, one of the first tanks designed for sub-vaping, but targeted at users who were not familiar of confident enough with wicking and coil-building.
If you're an experienced vaper, you'll have no doubt heard of Kangertech and know that they produce high quality devices and accessories right from starter kits to individual tanks and coils, all of which we provide a selection of here at Pure E-Liquids.
V2/VAPOUR2
V2 & Vapour2 are a part of the biggest online e-cigarette manufacturer in the US, and the third biggest in retail. VMR Products LLC have helped transform the e-cigarette market worldwide and often lead in pole position as the best manufacturer with thousands of 5* reviews.
A USP for brand is the complete control over the manufacturing process, something unique not only in the UK, but across the world. This allows every element of the end-to-end product to meet strict quality standards and product integrity.
Vapour2 products are created with 5 key elements in mind: taste, flavour, quality, service and working to replicate an authentic smoking experience, something those who have given up, will be looking for to assist with kicking with the habit.
You have a range of devices to choose from in the Vapour2 range, including the Shisha Pen, Vapour2 Pro, and the Vapour2 Pro Series 7 which supports not only e-liquids, but wax and dry herbs – a truly versatile device for advancing vaping. Paired with the extensive range of e-liquids available and you're sure to be getting the best vaping experience on the market.

Vype
Vype are a popular e-cigarette brand in the UK and is a creation of British American Tobacco (BAT) who are behind the cigarette brands Dunhill, Kent, Lucky Strike, Pall Mall and Rothmans. Launching first in 2013, the goal was to use the knowledge of smoking they'd gained over 100 years of BAT operating and convert this into a vaping experience designed for a user who was looking to replicate the smoking experience.
Since launching, VYPE has released a variety of different devices including the eStick, ePen, iSwitch, eTank Pro, eBox, and most recently the ePen3. You have a good choice here between a system which uses prefilled pods, refillable tanks and refillable clearomizers.
VYPE also have a range of e-liquids available and stocked here at Pure E-Liquids. From classic flavours such as golden tobacco to 'collection' flavours such as Indigo Dive, you're sure to find one which suits your taste. Look through the range below and be sure to check out the devices including the eTank starter kit which includes your first liquid!

Aspire
Aspire launched in 2013 and prides themselves on quality and exceptional customer service, including launching service centres worldwide to ensure customers have access to quick and efficient support whenever needed. True pioneers of the vaping industry, Aspire were the first brand to launch coils which support variable airflow, something now many devices have as standard. Alongside that, launches of sub-ohm tanks including the renowned Cleito, one of the most popular tanks in the industry, has really cemented Aspire's place as a world leading e-cigarette and vaping manufacturer.
High investment in R&D with a strict quality control process has seen the brand become very popular with vapers across the world.
At Pure E-Liquids we work with Aspire to stock the best of the extensive product range including coils, tanks, starter kits and the unique Aspire Cobble AIO Kit – a fantastic easy to use refillable pod system.