Posted by Pure E-Liquids on 6th Dec 2019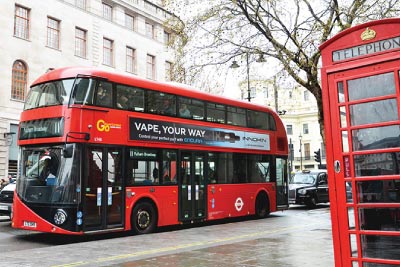 If you live in London or have recently enjoyed an excursion to the capital to take in the breadth of brilliant tourist attractions, then you may have spotted an exciting marketing campaign taking place. Emblazoned across 500 buses across London, vaping manufacturers Innokin have taken their vaping campaign to the streets to ask 'how much do you know about vaping?'
How Much Do You Know About Vaping?
If you vape, then you will know how vaping has helped you. But if you still smoke, it's likely that you may not know just how helpful vaping can be if you're trying to become smoke-free. To raise awareness about how vaping can benefit the lives of millions of smokers, Innokin set about sharing their proud support for the various vaping advocacy groups such as UKVIA, VTA, CVA and CASAA. With Public Health England has long shared the message that vaping is up to 95% less harmful than smoking, groups such as UKVIA are paramount to providing the public with relevant and up to date information about the benefits of vaping.
Research shows that e-cigarettes help up to 50,000 people quit smoking every year. Yet, there are millions of additional smokers who are unaware of how vaping can help them become smoke-free. Responsible for 16% of adult fatalities in the UK, smoking-related diseases are a considerable burden on our public health system and one that can be radically limited with the aid of e-cigs. A study published by Queen Mary University London even shows e-cigs to be up to twice as effective as other nicotine replacement products such as patches and gums.
Smoking is responsible for 16% of adult deaths in the UK
Vaping is up to 95% less harmful than smoking
E-cigs are up to twice as effective as nicotine patches and gums
E-cigs help up to 50,000 people in England quit smoking
The UK's population of vapers is estimated to be 3.2 million
Why Quality Vaping Products Matter
Here at Pure E-Liquids, your health is at the heart of everything we do. We believe that by vaping quality products that are tested and certified according to TPD (Tobacco Products Directive), can and will help you become smoke-free. By promoting products from esteemed and respected manufacturers such as V2 Cigs, ECO-Vape, Vype, Eco-pure and Innokin – we aim to provide you with the very best in quality vaping products that are designed to help you become smoke-free. We only promote e-cigarettes and e-liquids that have been rigorously tested to ensure that what your vaping is as safe as it can be for you to consume.
The Innokin Collection
Advertising campaigns such as Innokin's can only help to improve the understanding and awareness about the benefits of vaping, which is something we wholeheartedly support. Combining innovation with the highest health and safety standards, Innokin produces some genuinely exceptional vaporizers for you to experience.
Innokin Proton Plex Kit – This hugely popular vaporizer is the perfect bit of kit for advanced vapers. Combining the powerful Proton mod with the Plex vape tank, experience the advantages of the Plexus Mesh Coil that'll provide you with big vapour clouds and even bigger flavour.
Innokin Jem Starter Kit – Affordable and easy to use, the Innokin Jem vaporizer is a small-scale vape mod that is ideal for those who are serious about quitting smoking. Compact, stylish and fuss-free, the Jem comes with some excellent additional features such as adjustable airflow, and a convenient top-fill system that'll make topping up your e-liquid so easy.
Innokin Coolfire Ultra TC150 iSub VE Kit – A high-powered starter kit, this supercharged edition of Innokin's classic Cool Fire IV mod offers 150watts of vaping power that can be managed by easy-to-use temperature control functions.
Innokin EQ Kit – Forget the mods - here come the pods! Available for under £20, the Innokin EQ uses the manufacturers' Plexus mesh coils to provide a near-perfect mouth-to-lung vaping experience. Featuring a large 800 mAh battery in a compact design, enjoy a powerful vape that'll leave you feeling satisfied.
Innokin DV Pod Kit – The ergonomically designed DV Pod Kit is a refillable pod vaporizer that is ultra-light and looks ultra-cool. Compact and discreet, the DV Pod Kit features a battery capacity indicator light, as well as four different wattage levels to suit your vaping preferences.