Using an electronic cigarette, vaping is the action of inhaling vapour from a portable device into the lungs. You then exhale the vapour out through your mouth and/or nostrils for a much-bigger hit packed with flavour. Whether you're a cloud chaser or just want a smooth hit, there are plenty of options to experiment in the world of vaping. Although you do not have to inhale to soak up the nicotine in your system - due to your mouth soft tissue doing that for you - the routine will remain the same as smoking. It will feel like a similar process, and less fussing about or trying to adapt to patches or gum. Studies conducted via Cancer Research funding suggest e-cigarettes are a much more effective method than traditional replacement therapies to help people give up smoking. Here are five reasons why vaping is a refreshing change of pace:
1. You can save by quitting smoking, with vaping a cheaper alternative.
2. Vaping removes the increasing medical risks associated with continuing to smoke.
3. Lots of different e-liquids to suit your personal preference.
4. Become part of a growing community, evolving and upgrading your devices to a higher technical standard once you understand the industry.
5. You'll quickly see changes to your health that will benefit you short term and long term after quitting smoking.
How to Vape - Beginners Guide
You can buy lots of different devices which range in size and capabilities, but they are typically pre-filled (ideal for beginners) or a build-it-yourself model which is handy for adding your liquid. We know it can be confusing, but starter kits with pre-filled cartridges or vape pens with refillable tanks are a good choice when getting to grips with vaping. These are much simpler to operate and easy to maintain.
Vaping provides a variety of designs to help you adjust, with options tailored to your individual preferences. For example, a 'Cigalike' looks just like a cigarette, so it's a smooth transition with a familiar look and feel. They're often equipped with just enough battery to last throughout the day. If you can find an affordable option, it's really handy to buy spare batteries or double up by buying two kits, charging one while using the other. Equally 'Pens' are compact, stylish and can fit in your pocket. As you can see, there is also various terminology used to describe the components that make up a vape device. But to keep things simple here's a helpful list of components that you will come across and may hear about:
Batteries can be built-in or removable. The battery is usually encased in a pen or box-shaped casing. All batteries can be re-charged. Many modern vaping devices now use 18650 batteries or something equivalent.
Tanks are the component of your vaping device which include a reservoir to hold additional vape juice. Sometimes referred to as an 'Atomiser', they hold the coil.
There are different types of tanks which can be categorised as 'Regular', 'Sub-ohm' and 'Rebuildable'.
Coils, also known as 'Atomiser Heads', are responsible for making vape juice from the e-liquid tank and heating it to produce the vapour.
E-liquid can come in various flavours and strengths. It is made up of Propylene Glycol (PG) and Vegetable Glycerine (VG), in addition to sweeteners. The ratios of these can alternate by e-liquid type with some being 100% VG. This is explained in more depth in the final section of this blog.
Each purchase of hardware typically comes with a manual, describing how they work. However, you can pretty much find any information you need with a quick Google search. Most devices require three or five clicks to switch on and charge via a USB, which are traditional micro USB but in more recent times Type-C USB chargers.
Understanding How to Vape for the First Time
Although it looks easy when you see someone puffing out a huge cloud of smoke, there's an art involved when learning how to vape. It's different to smoking cigarettes because you inhale differently, which is explained in more depth below. Getting the right technique can affect whether you stay on the right path or end up smoking again, with ASH highlighting in 2019 20% of vapers return to cigarettes.
To begin with, it's about finding the ideal balance with your nicotine level, which after all is an addictive substance that needs to be managed correctly once you switch to vaping from smoking. Cravings may get the better of you, so it depends on how much you want to reduce or increase the amount. For instance, a lower strength works well on a high-power battery. Providing the coil set up for your device is correct and you have the right combination of liquid and nicotine, you're good to go.
Inhaling & Exhaling Without Developing Smoker's Cough
Next, you have to think about Direct to Lung vaping (DTL) or Mouth to Lung vaping (MTL). The latter is ideal for beginners because you get a similar tight draw as you would with cigarettes, minus the more harmful elements. It provides a much stronger throat hit that will feel familiar as you inhale. Slowly this desire decreases over time, but it's ideal initially when you transition to vaping. In contrast, DTL works for vape kits like Sub-Ohm, requiring a little more experience to produce those big clouds. It's a smoother but looser draw, creating more vapour at a faster rate that goes straight to the lungs during inhalation. Typically, vape mods are the perfect option for advanced vapers wanting to upgrade to a DTL technique. With additional settings such as adjustable wattage, which you can find on most devices, that creates a better platform to vape directly into the lungs. Add features like temperature control into the mix and you have a winning formula for an enhanced experience.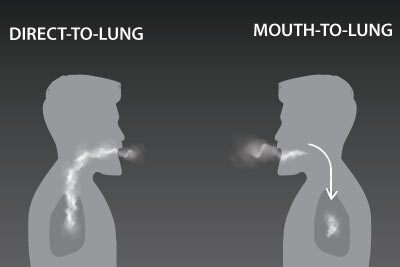 Getting a nasty cough or inhaling too much e-liquid is common among rookies, especially if you are used to short draws of nicotine from a cigarette. You don't want to get too much of the latter in one short sharp burst, as it can be quite unpleasant. That's why many choose the MTL approach, at least to begin with. A useful tip is to add a few drops of e-liquid to the coil, leaving for a couple of seconds to allow the liquid to burn completely between hits. This will help with getting a smooth vape and reducing the chances of a cough.
Big or Small Inhale for Vapers?
There's no right or wrong answer here because each vape is different based on your chosen equipment. Those switching from smoking to vaping may be surprised that you have different ways to inhale the vapour. If you seek a similar experience, MTL is ideal because it requires shorter draws into the lungs.
All you have to do is hold the vapour in your mouth for a couple of seconds.
Absorb enough air so it can pass into your lungs.
Then slowly exhale to get that similar hit you would from smoking.
Alternatively, the cloud chasers among you looking to make legendary shapes using techniques like the 'French Inhale' can try Direct to Lung vaping instead. This technique is just as simple but provides a different sensation. By vaping straight to the lungs - with only a deep breath required - you get a much smoother feeling that produces bigger clouds and flavour. You can also try exhaling out through the nostrils to intensify the taste!
Finding a Suitable Vape Device
Next, it's about finding the right device that suits your level of vaping. For beginners, it's much easier to go with a pre-packed vape that's already pre-filled. But you also have to consider if you want a similar draw like with smoking or something completely new. Everybody is on a different journey with vaping, and the beauty of the industry is the variety of products you can get, each tailored to the individual. There are lots of things to consider:
How many puffs per coil - you can look for a specific device that caters to this preference with a puff counter which is great for tracking nicotine intake
DTL or MTL preference
Measuring what looks good against which is the most practical
Cost to run. For example, if you vape at high wattage, you will use more e-liquid which will be more expensive long term. Vape pod devices tend to be cheaper because they're easier to manage as All In One (AIO) kits that are ready to vape straight away
Read More Here:
Best Pod Kits for Nic Salts 2020
Pod or Mod - What's the Difference?
Using Advanced Vape Mods
Hopefully, you'll find an awesome device that ticks all the boxes - matching the inhaling technique you enjoy while looking the part too! Because beginner vapers start with a smaller pod device that's easy to configure, it lacks the additional features you'll find with a more advanced vape mod. What they provide is more flexibility and versatility to adjust to the users' requirements.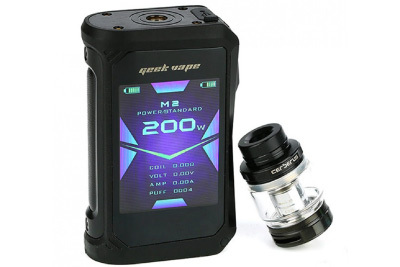 The higher the wattage, the bigger the battery life, power and cloud production. Typically you'll find vape mods with a higher wattage work better at a lower resistance coil (known as Sub-Ohm vaping). If you try to vape with more watts and a high coil strength, you run the risk of burning your coils, which leads to an unpleasant taste, requiring replacing your coils much sooner than expected.
Read More Here:
Innokin Kroma-R Zlide vs Innokin CoolFire Z50


The Best E-Liquid for the Perfect Vape
Finally, it's important to consider the best liquid to pack in your chosen device. Missing the taste of menthol? That's no longer an issue despite the menthol cigarette ban in 2020 - with menthol and 'cool' flavoured e-liquids. Or do you feel you'll be someone who will want to change between the juiciest fruit flavours going? With the likes of Cherry and Grape available in our online store, there are plenty of choices. In more recent times, the craze is nic salts. In these carefully blended e-liquids, it's an even smoother hit than freebase nicotine (in most e-liquids) because of benzoic acid. The introduction of this compound provides a quicker absorption of nicotine into the body.
If a new vaper aims to completely remove nicotine, you can even vape nicotine-free, but it's advised to not start at that level straight away after smoking cigarettes. Instead, gradually reduce your nicotine in milligrams down to zero. Shortfills is a good way to do that, meeting the requirements of TPD EU vaping regulations. With these handy little bottles, it's filled with flavoured e-liquid without nicotine. You can then fill up with a nic shot to get the required level needed on your vaping journey.
Your PG and VG ratio is another important factor. As a beginner vaping learning how to vape for the first time, stick with a higher PG ratio. This is because the consistency bears a closer relationship in terms of inhalation to a cigarette. In contrast, a higher VG ratio creates a thicker e-liquid, which enhances the flavour of your e-liquid but at a cost. The denser liquid is smoother on the throat, reducing the hit on the throat you typically get from smoking. Slowly over time, you get used to vaping and most likely switch to higher VG content anyway. The aim is to learn as much about PG and VG as possible (see below) to pair the right ratio with your chosen device.
The perfect e-liquids are out there, you just have to weigh up your options and whittle it down to a favourite or two. Keeping it interesting by changing flavours often is the best bet to help you stop smoking. Once you understand the different vaping techniques and terminology, everything else falls into place. Hopefully, this guide explains everything you need to know to help on your vaping journey. If any other questions spring to mind, reach out on our social channels below or through the live web chat service.
Read More Here: