How to Get the Most Out of Your Shortfill E-Liquids
Posted by Pure E-Liquids on 11th Sep 2020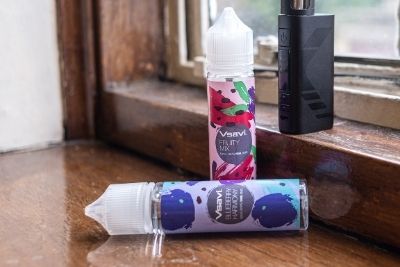 Increasingly popular, shortfills have unquestionably taken the market by storm. But while they offer convenience, control, and cost effectiveness; few vapers know what they are or how they add value to your vaping experience.
So, what exactly are shortfill e-liquids and what has made them so popular with vapers throughout the world?
What is a shortfill e-liquid?
Shortfills are large pre-filled e-liquid bottles that are filled to around 70-80% of their capacity. This is to allow users to add their own nicotine through 'nicotine shots' that let you control your mix with care and confidence.
These allow users to tailor their experience and ensure that their session is perfect and provides the perfect nicotine hit every time. Or just allows you to vape in volume or skip the nicotine altogether.
While you can still pick up normal e-liquids with ease, there are a number of advantages for certain users. These include-
Increased Control: Choosing a shortfill bottle lets you tweak the elements of your experience, allowing you say in how much nicotine you want to add to your liquid and partake the way you choose to.
Raised Capacity: For those looking to create the thickest or most usable clouds possible, Shortfills are great with playing with your mix or ensuring that you have enough to last when you're out and about.
Cost Effectiveness: Simply put, you end up getting more for less. There are no more issues around carting around multiple tiny bottles containing e-liquid and the use of larger container means you can carefully measure your use and avoid wastage.
Why were they created?
Shortfill bottles was a direct response to the enforcement of Tobacco Products Directive regulations in 2016. These provided a list of requirements that vaping products had to comply with before they are able to be sold in the EU, and which our team at Pure fully adhere to.
These govern five key rules for every vaping product to be sold throughout the UK. These included but, but were not strictly limited to: product characteristics such as design and bottle capacity, submitted notifications and information to the MHRA for approval before launch, packaging being fully fit for purpose, the display of appropriate labelling, and ensuring that the shortfill liquid provider is fully registered with relevant authorities before selling.
I order to be fully complaint, bottle capacity for e-liquids were limited to 10ml and nicotine strength was set at 2-mg/l. For some individuals, this was prescriptive – leading providers to fulfil their needs through the creation of bespoke e-liquid products that could be 'topped up' with a dedicated nicotine shot.
Providers then supplied detailed instructions covering how to mix products with care and ensure a quality vaping experience. This lets users safely, and easily mix liquids to get the taste and hit they wanted. This allows an increased level of control without worrying about tampering and additives.
How do you mix your shortfill e-liquid?
When you buy a shortfill product you'll be given a couple of bottles. One of these will be a large container that holds your chosen e-liquid with a space for your shot. The other bottle (or two depending on your purchase) contain the nicotine shots that can be added to your shortfill.
The process is straightforward but requires a little extra care when you start to make sure that you get it down right.
When you're ready, take your shot and carefully add it to your short fill bottle. Your shot will come in a 10ml shortfill bottle and total between 15-20mg of nicotine. Getting the right mix can lets you enjoy a smooth experience that isn't too harsh or mild. While there are number of options available, using an online shot calculator can help you measure out the precise amount you need for you chosen mg strength liquid. As a rule, you need to consider how much e-liquid your container holds, how many shots you have, and the degree of concentration of your nicotine.
Once you have measured out your shot, you can add it to your shortfill while being careful not to spill and immediately cleaning any drops from the bottle or table. Once your shot has been added seal the lid on the shortfill container and give it a good shake to allow the contents to mix correctly. Once you're done, store it in a cool, dark, and safe place to allow the liquid to rest for a couple of days. Remember that the liquids are toxic if ingested, so be sure to store it safely where children or animals cannot reach.
The one essential part of this process is making sure that the bottle 'breathes'. This means that, once per day, you carefully open the cap on the shortfill container and give it a slight squeeze to make sure that the air cycles properly and fresh air is added to the mix. Once this is done, reseal the container and give it another good, controlled shake.
Repeat this process for six days and, once you finish out your last mix, you can start using your e-liquid with your chosen device.
It is always worth remembering that when it comes to dealing with substances like nicotine, it is essential that you manage your mix carefully. When you start, always use slightly less than you would expect. Remember that nicotine is highly addictive and adding too much to your mix can potentially be dangerous.
Who can make use of them
Essentially – anyone! Shortfills are a great for a range of individuals. These include, but are by no means limited to-
Seasoned Vapers: Whether you've been vaping for a while or are picking up a device in response to lockdown, shortfills give a greater sense of control and increase your range of options. This can be as simple as convenience when it comes to using larger volumes of liquid, mixing the right amount of nicotine to help manage your cravings, or tailor your experience without worrying about fussing or fiddling with your device settings. Simply buy, fill, and vape.
Mod Users: One of the most common users of Shortfills, box mods have the power and capacity to burn through e-liquids rapidly and provide a powerful throat hit of flavour, nicotine, or your chosen product. The additional settings on the devices can be tweaked to let you manage your e-liquid use. This lets you get the most out of your device and ensure that your experience is up to snuff.
Cloud Chasers: Shake shortfill containers are an essential part of many tricks or for users who keen to tweak and control their vaping experience. The extra volume in a shortfill e-liquid bottle makes carrying large volumes around much easier when you're sub ohm vaping. This also allows you a massive amount of control over the type of cloud. This can range from taste, nicotine volume, and more; letting pros find the right mix with ease and perform with confidence.
What options are available to me?
Shortfills will vary from provider to provider, but they will always come in a range of options. At Pure we have heard the increased requests from a number of customers who not only want variety in their mix, but their flavours too.
As of the 04.09.20, our team will be offering a fresh range of shortfill flavours that let you enjoy a nicotine hit and amazing flavour. These are produced to the highest possible standards and packaged appropriately for adults, allowing you for a streamlined vaping experience that doesn't get in the way of your fun.
Some of our favourites include-
Cool Strawberry: Bursting with flavour, this is paired with an aniseed hit of absinthe to provide a fruit explosion that provides a juicy and genuinely refreshing mouthfeel.
Spicy Mint: Cool and smooth going down, this hits you with a wild, spicy-sweet kick on exhale – letting you start your morning off right or giving you a lift as you vape e-liquid throughout the day.
Double Bubble: High-class chewing gum, this vape juice merges the blueberry and blackcurrant hints with wine's tannin undertow.
Green Mango: Fresh and damn juicy, the mildness 'back of the throat' power of the mango is complemented by a green tea extract that provides the perfect complement for the end of summer and the briskness of autumn.
You can learn more by checking out our dedicated shortfill page or reviewing our other Vsavi options to enjoy a high-quality vape with ease.
What next?
If you are interested in learning more about shortfill e-liquids or the other options available to you, our team at Pure are here to help. With 5 years' experience, we work with you to provide a solution that suits your unique needs.
You can view our full list of e-liquids from here. Or, if you have specific questions or queries about our range of products, you can contact us directly and let a member of our team know exactly what you need to get the most out of your vaping experience today.